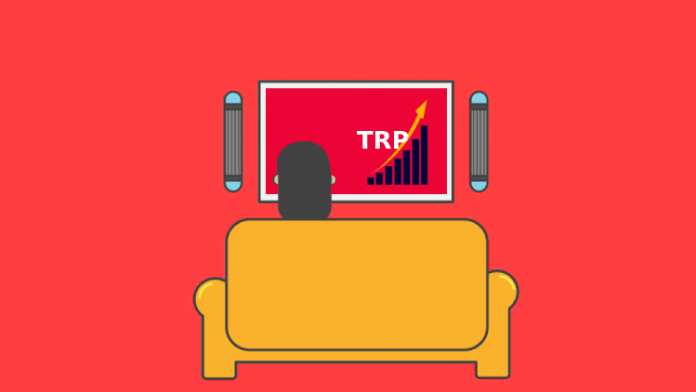 The Mumbai police recently unearthed a television rating scam in which three channels, including a leading English news channel, were accused of manipulating the Television Rating Points (TRP) to boost advertising revenue. But why would anyone risk tampering with TRPs and attract the attention of law? The answer is simple: Huge stakes ride on TRPs and the existence of a television channel depends on it. Higher the TRP, more the advertising revenue.
India is home to nearly 900 TV channels and nearly half of them dish out news every day. The news channels are estimated to command ₹2800-3500 crore in ad revenue annually.
Consulting firm KPMG estimates the television market size at ₹77,800 crore (2019), which is 44 per cent (₹1.75 lakh cr) of the overall Indian media and entertainment industry market. And the ad revenue is pegged at ₹26,200 crore, of which an estimated 11-13 per cent, i.e. about ₹2800-3400 crore, goes to new channels (all languages).
Advertisement
The rate for a 10-second advertisement slot during a cricket match can go up to ₹15-17 lakh and that on a news channel during election results could cost about INR 10 lakh. For a prime-time leading channel, the price could be anywhere between ₹2 lakh to 5 lakh, depending on the viewership on a regular day. It is this viewership, calculated in terms of TRP, which matters when it comes to advertisement revenue.
Also read: Mumbai police investigating Republic TV for TRP manipulation
TRPs is a tool for media companies to understand which programme or show gets viewed the most and which are the preferred channels. For advertisers, viewership data matters because they want to take their products/services to the maximum audience. Thus, manipulation of TRP data, though unethical and criminal, can help a TV channel generate more revenue.
In India, TRP is measured by the Broadcast Audience Research Council (BARC), an industry body represented by broadcasters, advertisers and ad agencies. It is measured with the help of barometers which were installed in select homes, through its contracted vendor Hansa Research Group. The data on where the barometers are installed is supposed to remain confidential. However, Mumbai police found certain households were paid ₹500 each to watch certain channels so that the ratings be manipulated.
As per BARC measuring, if a TV set is on for 30 seconds or more in a clock minute, it is attributed as being on for the entire clock minute. So, another way the TV channels can tamper with the rating is by getting cable operators to make a certain channel as the 'landing page', the channel that opens when one switches on the TV. This gives them an undue advantage.
Three channels—Republic TV, Fakt Marathi and Box Cinema were alleged to be involved in the rigging process to boost the ad revenue. As part of the racket, households were asked to keep certain channels on all the time. "Illiterate homes were asked to keep English channels on," Mumbai Police Commissioner Param Bir Singh said. "Household data were used by the channels for rating manipulation and they received illegal advertising funds."
Also read: Bollywood drags Republic TV, Times Now to court for 'irresponsible' reporting
In Mumbai alone, about 2,000 such barometers are installed. Across the country, BARC set up 44,000 meters in select houses. The police are still investigating as to how many households were bribed to tweak the rating.
While the bribes paid to households to manipulate TRPs may not be a large sum in the Republic TV and the other two channels' case, the advertisement revenue behind those TRPs is what puts them in a tough spot.
BARC in 2019 estimated that 836 million people in India had access to TV and each household roughly spent an average of 3 hours and 42 minutes watching TV every day. While Central and state elections, cricket World Cup, "surgical strike" on Pakistan, and the news of abrogation of Article 370 in Jammu and Kashmir propelled the popularity of the news genre last year, the pandemic triggered a shift in TV consumption this season.
The KPMG's Media and Entertainment report 2020 says the urge to keep a track of latest updates and the non-availability of fresh programming content benefitted the news genre as its share in total TV viewership peaked at 21 per cent during the initial weeks of lockdown – a 3X increase from the pre Covid levels. Post this, during the unlock period, it declined 11-13 per cent by June end.
"The regional language news viewership on TV witnessed a stronger growth compared to English news channels as many viewers preferred local news and updates on the pandemic and lockdown restriction from their locality," it said.
TV news viewing time increased from 16 minutes per day before the pandemic to a peak of 59 minutes at the end of March, before again going down to 29 minutes during the 'unlock' period.
Also read: TRP Scam: Arnab says, 'I haven't learnt defeat, I don't know how to stop…'
With all this, the ad-revenue of TV channels, which were affected due to COVID crisis, were picking steam in the second quarter of FY20-21. And these channels found the time apt to rig to cash in on the ad revenues.
The Mumbai Police have already arrested the owners of two TV channels — Fakt Marathi and Box Cinema, and an employee of a market research firm involved in the process. They are also questioning the officials of Republic TV run by journalist turned media owner Arnab Goswami.
#RajivBajaj, MD of Bajaj Auto who has blacklisted three channels for advertising on account of spreading toxicity and hate-mongering in the society.
Important to remember that it was #RajivBajaj who was the first Industrialist to speak about the Demonetisation Disaster. #TRPSCAM pic.twitter.com/pWHOwe4UJq

— Abrar Wani (@AbrarWa67815921) October 12, 2020
Considering that some of the channels also pushed 'toxic' and 'hate content' in the process and wanted to convey that it was what people wished to see in general, the scam has now overturned that message.
With the scam coming to light before the festival season, companies like Parle Products (the makers of Parle-G biscuits) and Bajaj auto have vowed not to advertise on news channels that promote "toxic content".
Faking TRPs is not new
The TRP claims are often being contested. For instance, in Telugu news channels, TRPs have always been a hotly contested subject in Telangana and Andhra Pradesh.
It is an open secret in the Telugu-speaking states that many of the regional channels routinely manipulate the people-meters to secure high TRP ratings from Broadcast Audience Research Council (BARC), the television audience measurement service.
In November 2016, the BARC had penalised two news channels—TV9 Telugu and V6— for allegedly tampering with ratings. As a result, the TRP ratings of these channels were not published for four weeks. The decision was taken after they were found to be tampering with the BARC rating meters placed in households which had allegedly led to a surge in their ratings.
An investigation team at BARC had studied "unusual behaviour patterns" in the data obtained from certain sections of the country with regard to these channels and found that some people who had never watched the channels were watching it for several hours every day all of a sudden. This was suggestive of manipulation.
In December last year, the Telangana police had booked seven persons in Hyderabad for allegedly manipulating TRP ratings of two Telugu news. The channels were not named.
After the BARC's vigilance wing took action against persons involved in the manipulation of TV ratings in Karnataka, Madhya Pradesh and Assam, the BARC officials have lodged a complaint with the Marredpally police in the city in connection with the TV ratings tampering case.
Also read: Fake TRP racket: Police summon Republic TV's executive editor, journalist
Based on the complaint, police had registered cases under Sections 406 (criminal breach of trust) and 420 (cheating) of the IPC.
"There should be a comprehensive probe into the TRP manipulations by regional channels here," the Telangana BJP spokesperson K Krishna Sagar said.
 (With inputs from Suresh Dharur)