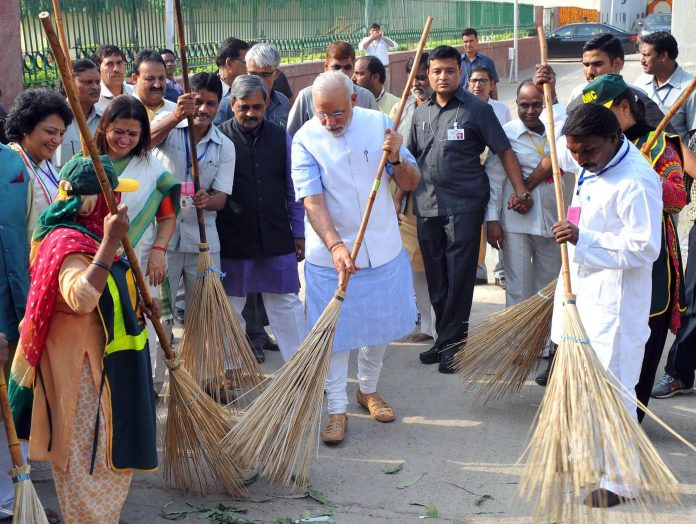 This day, October 2, marks six years of the launch of the Swachh Bharat mission, a pet project of Prime Minister Narendra Modi to promote cleanliness and sanitation across the country. The Federal takes a look at how much the scheme has cost the nation over the past five years.
According to the Union budget documents, the government has spent about ₹67,058 crore on the Swachh Bharat Mission so far. The budgetary allocation for the current year under the scheme is ₹9,994 crore, an increase of about 20 per cent (or ₹1,656 crore) than the previous year.
The actual budget expenditure for the scheme was ₹7,469 crore in 2015-16 while it increased to ₹12,619 crore in the next financial year. It further increased to ₹15,726 crore in the year 2017-18. The allocation was then cut in the next year as the total outlay for the scheme stood at ₹12,912 crore.
The Swachh Bharat mission was launched by Prime Minister Narendra Modi in 2014 to promote cleanliness and sanitation across India. Building household toilets to make villages open defecation free (ODF) was one of the major agendas of the mission.
"Now the aim is towards attaining 'Sampurn Swachhata' where we will focus on sustaining the momentum of #Swachhata and successfully implement 'solid and liquid waste management' programmes (#SLWM)" – Shri @gssjodhpur #SwachhBharatDiwas2020 @PMOIndia @narendramodi

— Swachh Bharat I #IndiaFightsCorona (@swachhbharat) October 2, 2020
The participation of the Prime Minister himself along with many prominent leaders and eminent personalities has always kept the mission in limelight.
The Union government claims 100 per cent households in India now have toilets.
The data suggests that more than 10.68 crore toilets have been built under the scheme over the past five years, but several news reports suggest otherwise.
Besides, the government has spent about ₹589 crore on information and education i.e. for creating awareness among people about the mission over the last four years.
According to the 2017-18 data, the government spent the highest amount i.e. ₹266 crore on various awareness campaigns. In the next financial year, the expense was about ₹95 crore. In 2018-19, the government spent about ₹158 crore on the same.