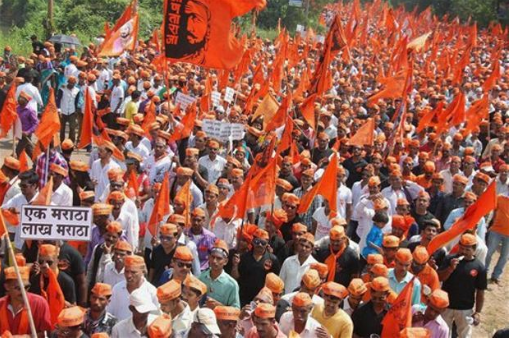 Quota for Marathas: 50% limit gone, other groups may revive old agitations
Quota politics and agitations are set for revival after the Bombay High Court's decision to allow Marathas reservation in jobs and education under the socially and educationally backward class (SEBC) quota.
Marathas, who are a group, not a caste, comprise a third of Maharashtra's population. They are now eligible for 12 per cent quota in jobs and 13 per cent in education in Maharashtra.
The high court decision is important because of two reasons. One, it allows Maharashtra to breach the 50 per cent limit set by the Supreme Court on reservation. The HC decision would take the total quota in Maharashtra to 65 per cent in education and 64 in jobs.
Two, the decision means any caste can seek quota benefits by claiming it is part of an underprivileged group. Marathas are a cluster of castes that include warriors, traders and land owners who are considered part of the so-called agadas, economically and socially advantaged groups against whom others needed quota benefits to attain parity.
These two changes have the potential of opening up the quota can with long term effects. In many states several castes have been denied quota primarily because of its constitutional invalidity. The Mumbai HC decision will encourage the Kapus in Andhra Pradesh, Jats in Haryana and Uttar Pradesh, Patidars in Gujarat and Gurjars in Rajasthan to revive their agitations for quota benefits.
Most of these castes and communities have been extended quota benefits by their states. But, the implementation has been stopped by various courts, primarily because of two important decisions that were part of the 1993 Indira Sawhney vs Union of India verdict by the SC. One, the total number of reserved seats/places/positions cannot exceed 50% of what is available, and, two, economic backwardness alone could not be a criterion.
So far, only Tamil Nadu was able to exceed the limit defined by the decision—the total quota in the state is 68 per cent. But, similar attempts by Rajasthan, which offered 5 per cent reservation to Gurjars, and Haryana, where the state government has reserved 67 per cent jobs and seats in educational institutes were stayed or struck down.
The Bombay HC decision will also inspire socially and economically well-off clusters to seek quota, citing the case of Marathas who are socially, economically and politically quite influential. Some of them control the powerful sugar lobby, cooperatives, banks and educational institutions. Others like the Pawars and the Ranes are prominent political families of Maharashtra. Theoretically, if they can prove their "backwardness", many other clusters of castes can stake claim to reservation as a cluster, even if as individual castes they do not fulfil eligibility criteria.
The quota laws are already under review since the Narendra Modi government's decision to extend 10 per cent reservation on the basis of economic criteria through a constitutional amendment. So far, it has not been struck down by any court in spite of exceeding the 50 per cent limit. The Bombay HC's decision, if not struck down by the apex court, will lead to an overhaul of the existing system, rewrite quota rules and trigger new agitations for a share in the reservation pie.
Also read: HC upholds maratha quota, protesters create ruckus