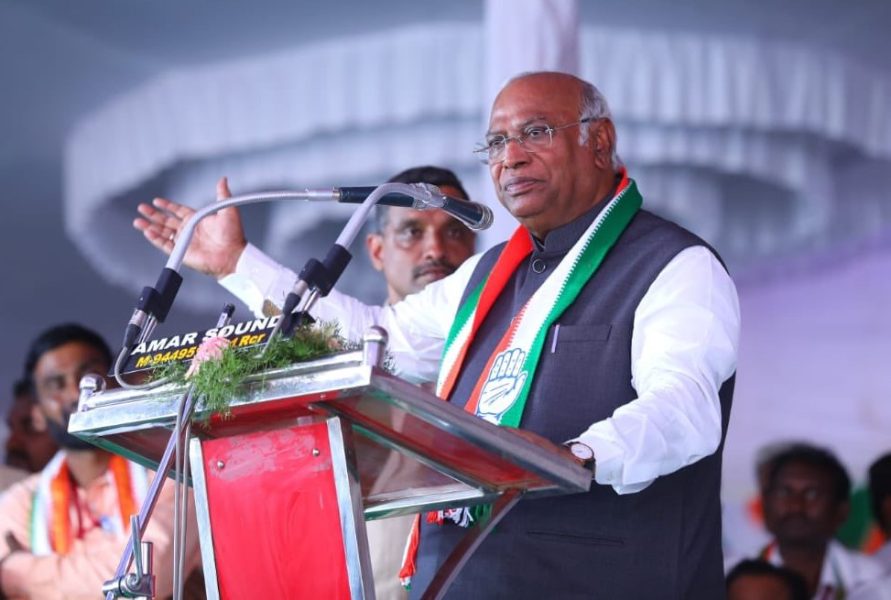 Proactive, independent, tactful: Kharge is the chief Congress long needed
Belying prophecies that he would be an ineffective party chief and merely serve as a rubber stamp of the Nehru-Gandhi family, Congress president Mallikarjun Kharge appears to be steadily pushing the moribund Grand Old Party towards reform and revival.
On December 4, 2022, when Kharge presided over his first meeting of the Congress Steering Committee after taking the party's helm a month earlier, his opening remarks were a pithy appraisal of the numerous challenges that lay ahead for his moribund party. Yet, even as his colleagues present at that meeting concurred with his grim assessment, many claimed privately that Kharge's prescription for reversing the Grand Old Party's organisational decay and electoral blight would find few takers.
Kharge had pitched strongly for affixing "organisational accountability from top to bottom" and, without naming individuals, pointed out that office bearers who could not perform their assigned roles satisfactorily should be prepared to make way for others. He asked over a dozen state in-charges he had inherited from his immediate predecessors, former Congress chiefs Sonia Gandhi and Rahul Gandhi, to "self-reflect" on whether they had done justice to the tasks given to them. Office bearers were told to chalk out a plan of action, within 30 to 90 days, for public outreach in the states under their respective charge.
For a party that had notoriously guarded its deadwood for years and revelled in its status quo-ist inertia despite obvious organisational atrophy and mounting electoral losses, Kharge's prescription was one replete with bitter pills.
A lacklustre start
Yet, the initial months of his presidency gave the impression that the party was again sinking into the familiar suicidal comfort of organisational torpor. The 85th Plenary Session of the AICC held in Raipur in February, where Kharge's election as party chief was ratified, saw the Congress rejecting demands to reinstate the Congress Working Committee (CWC) elections. There was neither dispassionate analysis of the party's repeated poll losses (including the humiliating decimation in the Gujarat polls held within a month of Kharge's election as party chief) nor any concrete blueprint for electoral revival. Usual sycophancy around the Nehru-Gandhi family and fawning praise for Rahul Gandhi's Bharat Jodo Yatra were the order of the day.
Also read: Opposition leaders' Patna meet catapults Kharge to prime spot
The three-day plenary concluded with reiteration of implementing resolutions for reform that the Congress had approved at its May 2022 Nav Sankalp Chintan Shivir in Udaipur but had since failed to act upon.
In early assessment, Kharge's presidency seemed to vindicate Congress MP Shashi Tharoor. Contesting the Congress presidential polls of last October against Kharge, Tharoor had told members of the party's Electoral College that if they wanted status quo to prevail, they should vote for the octogenarian "official" choice of the Gandhi family, but if it was reform they hoped for, their vote must be for him.
Turning over a new leaf
However, today, the 80-year-old Kharge appears eager to prove his detractors, both inside the party and outside, grossly off the mark. Buoyed by the Congress's stunning victory in the recent assembly polls in his home state, Karnataka, which saw him emerge as a tenacious campaigner and backed to the hilt by Sonia, Rahul, and Priyanka Gandhi, Kharge bears the visage of the party president that the Grand Old Party had long needed.
The last few months have seen a return of hectic activity at 24, Akbar Road, the Congress headquarters in Delhi. Kharge's Delhi residence, 10, Rajaji Marg, has emerged as the Congress's power console, even if Sonia Gandhi's residence at 10 Janpath continues to be the final arbitration centre for critical matters concerning the party and its outreach to like-minded political parties in this season of Opposition unity dialogues.
Over the past three months, Kharge's steadily increasing visits for marathon strategy meetings to discuss the party's preparedness in poll-bound states, chart public outreach programmes or simply to take stock of what his colleagues have been up to, and his janta durbars, where any party worker can meet him without prior appointment, have enlivened the party headquarters.
For the uninitiated, a party president's presence at his party headquarters may seem like the bare minimum discharge of his responsibilities. However, those familiar with the Congress's functioning know only too well that this had become a rarity in the past quarter century. In the nearly 24 years of her presidency, Sonia largely chose to work out of her residence and visited the party headquarters, a brisk two-minute walk from her home, only on select occasions such as CWC meetings or Independence Day and Republic Day functions. Rahul, who was elected party chief in December 2017 and relinquished the post after leading the party to its 2019 Lok Sabha drubbing, also preferred to work from his 12, Tughlaq Lane residence — one he has now been chucked out of following his disqualification as an MP.
Also read: If we win Bihar, we will win country, Kharge tells Congress workers
Kharge's frequent presence at the party headquarters and his "open-door policy" for meeting Congress leaders and workers alike is, thus, a novelty for not just the two generations of members who joined the Congress in the past 25 years but also for many veterans who, for the past two decades, had to often wait endlessly for the rare honour of being invited to 10, Janpath or 12, Tughlaq Lane for a brief meeting with their party chief. The inaccessibility of Sonia and Rahul had often been cited by disgruntled leaders quitting the Congress as an easy excuse to justify their desertion of the party.
A spring in the party's steps
More substantive transformation is visible in the urgency with which the party is now preparing for the nearly half a dozen assembly polls due later this year, as well as the Lok Sabha polls scheduled for April-May next year, and in the outreach to rebellious colleagues.
This is not to say that these activities never happened when Sonia or Rahul were at the helm of the party. The Gandhis largely chose to work from home and delegated the first round of such talks to an elite club of emissaries drawn from among their sycophants. This built an enigma around the Gandhis, especially Sonia, but also gave the impression that the party's first family was either unconcerned about the challenges and crises building up for the Congress or would act only when things had reached breaking point.
In contrast, Kharge has chosen constant exposure and hyper-activity as his modus operandi. A key leader of the now-disbanded G-23 reform-seekers of the Congress who is no longer with the party told The Federal, "When we demanded a full-term and visible Congress president, this is what we wanted… Kharge is accessible and is constantly in touch with a cross-section of party members; he may have his favourites in the party but he chooses to give everyone, senior or junior, an audience… this by itself is a major confidence booster for the party."
Over the past month, Kharge has concluded the first round of meetings to take stock of the Congress's preparations for the assembly polls due in Telangana, Chhattisgarh, Rajasthan, Madhya Pradesh, and Mizoram five months down the line. These meetings, usually lasting three to four hours with no lunch break in between, also served as a platform for threadbare discussions on complaints from various factions within the party against each other. However, instead of further acrimony, what came out at the end of these discussions was a picture of unity — something long seen as unattainable within the Congress.
Also read: Karnataka polls: How Kharge's spirited campaign has enthused Congress
An impartial leader
Several state leaders that The Federal spoke to complimented Kharge for steering discussions in an impartial manner. Prime examples of this were the tricky discussions he held with his colleagues from Telangana, Chhattisgarh, and Rajasthan — all states with varying degrees of factional feuds within the Congress.
The Congress president managed to broker truce between Chhattisgarh CM Bhupesh Baghel and his rival, TS Singh Deo, and, at least for now, reined-in Tonk MLA Sachin Pilot from launching further broadsides against Rajasthan CM Ashok Gehlot. In both these states, though Kharge ensured that the CMs weren't forced to step down as Amarinder Singh was made to in Punjab, with catastrophic results for the Congress, he read the riot act to both Baghel and Gehlot, making it clear to Singh Deo and Pilot that their grievances weren't being brushed under the carpet.
No rubber stamp
But there was also an unwitting takeaway from these meetings — one which established that although Kharge may show due deference to the Gandhis, he is no rubber stamp and can act both firmly and independently.
Through these meetings, Kharge ensured that he wasn't repeating the mistakes made by PV Narasimha Rao and Sitaram Kesri, the two former non-Gandhi presidents of the Congress who swiftly lost favour within the party for trying to decouple the GOP from the Gandhi family. He held the discussions in Rahul's presence and lavished praise on the former party chief. Yet, Kharge also pulled up those leaders who were believed to have been handpicked and backed stridently by Rahul despite the rising complaints against their functioning style.
For instance, while the Congress's Telangana unit chief, Revanth Reddy, is known to enjoy Rahul's confidence, he was reprimanded more than once for acting unilaterally and told in no uncertain terms that despite his perceived popularity, he "can't ensure a Congress victory in Telangana if he refused to take his rivals along". Earlier, Kharge replaced the party's Telangana in-charge, Manickam Tagore — another Rahul Gandhi acolyte — with Manikrao Thakre. Tagore had been accused of covering up the growing resentment against Reddy among a section of party leaders.
Also read: Rajasthan: After Kharge talk, Pilot ready to 'forgive and forget' ahead of polls
Similarly, in the case of Chhattisgarh, Kharge made it clear to Baghel, who is known to enjoy the collective confidence of the Gandhi troika — Sonia, Rahul, and Priyanka — that even if the Congress was well-placed to win the state polls, there was no room for complacency and he needed to be inclusive while dealing with rivals. Singh Deo, who only got assurances from Rahul for the past two years of being given due respect within the party and Baghel's government, was promptly elevated to the post of deputy CM after Kharge presided over the Chhattisgarh meet.
In the case of Rajasthan, Kharge reprimanded Gehlot for rising instances of caste violence against Dalits and tribals while also forcing him to accept some of the demands made by Pilot, a known Rahul and Priyanka confidante. However, Kharge also prevailed upon the Tonk MLA to not rock the boat for the Congress government in Rajasthan.
Proactive approach
Kharge, say party insiders, is singularly responsible for changing the party's approach towards strategising for the elections. "Such long preparatory meetings for state election were earlier held at the central level only a month or two before the polls were due. Kharge made it clear that preparations needed to start well in advance, just as they do in the BJP, and that most of our candidates need to be sounded out about their candidature at least two months before the election. He places enormous stress on continued public outreach and has ensured all state units and party in-charges draw out plans for padyatras, protests, and issue-based campaigns," a Congress office bearer attached to the party president's office told The Federal.
This proactive approach has now extended to the party's preparedness for the Lok Sabha polls that are 10 months away. Kharge has started summoning state-wise meetings to discuss campaign strategies tailor made for each state. The first round of these meetings saw discussions with leaders from Maharashtra, where the Congress's coalition partners — Uddhav Thackeray's Shiv Sena and Sharad Pawar's NCP — have both been hit by BJP-engineered turmoil and defections. Next, Kharge held a meeting with colleagues from Uttarakhand and then with the entire party brass from the northeastern states. In each of these meetings, specific targets were set and blueprints for short- and medium-term public outreach campaigns were finalised.
Additionally, central office bearers of the party, many long accustomed to sitting pretty in their offices at 24, Akbar Road, have also been told to tour the states under their charge. Even KC Venugopal, Congress's organisational general secretary and one of Rahul's closest aides, who had been infamous for summoning party leaders from different states to his office at the Congress headquarters, is now making regular visits to various states.
Also read: Credibility thy name is Mallikarjun Kharge: Sidhu on meeting Cong president
Social outreach
There has also been a perceptible change in the party's social outreach under Kharge. The Congress president may still be reticent about being hailed by his colleagues as a Dalit leader — he feels it undermines his merit and experience — but he has ensured that the party is unequivocal in its fight for the cause of Dalits, tribals, and religious minorities — the traditional vote base of the Congress that the party has steadily lost over the past four decades to the BJP and caste-based regional outfits.
At the same time, perhaps, on account of being a staunch Ambedkarite and a Dalit, Kharge has shunned the Rahul-era practice of brazenly pedalling soft Hindutva through temple hopping and flaunting of Hindu identity (though both Rahul and Priyanka continue to do so in their own way). His constant refrain is that the Congress is fighting to preserve the Constitution given to the country by Dr Ambedkar and the idea of a pluralistic India envisaged by Pandit Nehru.
This pitch has also allowed Kharge to have an easy working relationship with leaders of sundry Opposition parties, be it the Dravidian DMK in Tamil Nadu, the caste-based social justice parties such as the RJD and the SP, or the atheistic Left Front — most of which want the ongoing talks of Opposition unity to revolve around common ideas of a caste census, opposition to the Uniform Civil Code, and religion neutral issues such as unemployment, social security, and welfarism.
Of course, all of this doesn't mean Kharge has scripted a guaranteed Congress revival. There are still major unfinished tasks that he needs to tend to, such as the long-promised revamp of the AICC, the constitution of the Congress Working Committee and, most importantly, pivoting the Congress back to its original centrality in the anti-BJP Opposition front ahead of the crucial battle for Raisina Hill due early next year.