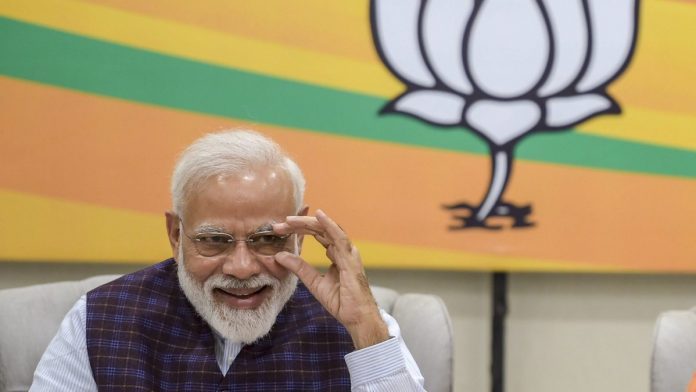 Prime Minister Narendra Modi presented himself as a chaiwala (tea seller) in 2014. For the 2019 election, he will hard sell himself as a chowkidar (watchman). Apart from this metamorphosis, almost everything about his campaign remains the same, revealed his inaugural speech in Meerut on March 28.
In 2014, his campaign was about deriding the opposition, calling for a Congress-mukt (free) India, selling dreams of achhe din (better times) and  projecting himself as a man with a 56-inch chest who would destroy India's enemies. And, of course, highlighting the political journey of a humble tea seller, and juxtaposing it against the entitled dynasts, especially the shehzada (prince) of the Congress. All those props, his high-decibel speech in Meerut revealed, will still power his campaign, albeit with minor changes and new acronyms.
Twist in tale
Advertisement
The call for jettisoning the Congress is still there, but with a more altruistic purpose. "Unless the Congress is driven out of every corner, poverty will not disappear," Modi argued. The twist in the Congress-mukt tale is to counter the Congress' Nyuntam Aay Yojana (NYAY) — minimum income scheme guaranteed by Rahul Gandhi to India's poor.
The entire opposition, like in 2014, needs to be dumped ruthlessly, Modi exhorted. And he found novel reasons for doing so: they are soft against India's enemies, pick and choose terrorists on the basis of religion, question his (Modi's) strikes on Pakistan because they want to become popular in the enemy country, have formed a mahamilvat (highly adulterated coalition) to take him on, and, in UP, they are as dangerous as SRAB — his neologism for the SP, Rashtriya Lok Dal and BSP combine.
Achhe din is no longer promised. Why? Because it is already there. Modi listed out a spate of achievements to argue that he has delivered on his promise of making lives better: more families had houses with power supply, the poor have access to bank accounts, and his government had facilitated more loans and, thus, helped the youth set up their own enterprises.
But, the main weapon of his blitzkrieg is the claim that his government dealt with terrorism and Pakistan with an iron fist. In his marathon speech — he spoke for about an hour — he reminded his audience of the surgical strikes on Pakistan, the air raids on Balakot and the recent ability to strike down satellites in the earth's orbit. Then, he argued that terror attacks had come down during the past five years — a claim that may require some fact-check in the aftermath of Uri, Pathankot, Pulwama and the increase in incidence of terrorism in Kashmir. His point: I am the chowkidar of India's land and skies.
Catering to emotions
Since the PM rarely changes the template of his speech, except for minor tweaks here and there to give it a local touch — in Meerut he spoke about sugarcane farmers and Choudhary Charan Singh — it can be assumed that nationalism and a muscular foreign policy would be the theme of his campaign. He will, simultaneously, call those who oppose him, ask questions and seek evidence about his claims as effete and spineless sympathisers of the minorities and "heroes of Pakistan." As he thundered in Meerut: Do you want saboot (evidence) or sapoot (good son)?
The PM's reluctance to talk about demonetisation — the only time he addressed the nation to announce a big decision before March 27 — and other contentious issues such as the GST, lack of employment (the unemployment rate is the highest in 45 years), and rural distress, is an indication that he will focus more on emotional issues and the dumdar vs dagdar (tainted opposition) binary. This is a clever ploy: Modi wants the election to be a referendum on the opposition and the achievements of the security forces and scientists. He wants to avoid a discussion on his own hits and misses.
To give it to him, Modi still conducts his audience like an orchestra. They clap when he raises his right hand, they scream "Modi, Modi" when he raises both his hands, they respond when he starts his Q&A session — India needs a strong leader or not? Pakistan should be taught a lesson or not? — and shout slogans every time he makes a theatrical pause. On the campaign trail, it is déjà vu, except that the flavour of chai is missing.