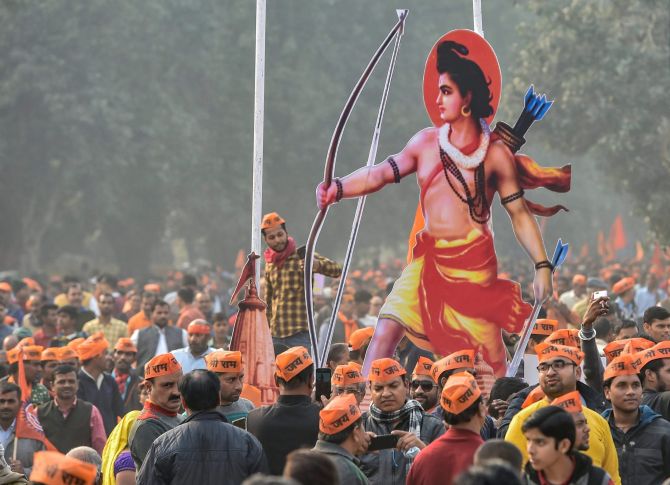 'Jai Shri Ram' not a Bengali call? Amartya Sen is both right and wrong
It is famously said that the Bengalis celebrate 'baro mashe tero parbon' (13 festivals in 12 months), a phrase used to symbolise the rich culture of the state and the plethora of festivals that it celebrates. But the wisdom of such a saying seems to be lost, especially at a time when religious chants have turned into political slogans, and have come to define one's political leanings rather than religious beliefs.
Take for instance, the case of 'Jai Shri Ram' and the hullabaloo over its indigeneity to the state.
Even as videos last month showed an irate Chief Minister Mamata Banerjee stopping her convoy and threatening people chanting 'Jai Shri Ram' of dire consequences, a recent statement by Nobel laureate Amartya Sen has taken the controversy a notch further.
Sen at a recent seminar in Kolkata claimed that 'Jai Shri Ram' was not a part of Bengali culture. "It (Jai Shri Ram) is a recent import used as a pretext to assault people," Sen had said, arguing that the culture of 'Jai Shri Ram' was imported to the state to create an atmosphere of divisive politics.
Ram, not new to Bengal
While the issue stirred up a storm, drawing criticism from many quarters, the most riled up were the BJP leaders in the state. Quick to take a dig at Sen was BJP MP Babul Supriyo who tweeted that it was Sen's age speaking and not his mind. "In Bengal, 'Jai Shri Ram' is more a symbolic phrase of protest than a religious one," he said. State BJP president Dilip Ghosh wondered if Sen knows the real Bengal. "Does he know about Bengali or Indian culture?" he had said.
Sen in his talk had said that he had never heard of the 'Jai Shri Ram' slogan in his earlier days. "Nowadays, Ram Navami is celebrated more in Kolkata which I haven't heard earlier," he had stated.
Responding to Sen's comments, BJYM state secretary Aroon Shah called it a biased statement. "Ram is a part of our very existence, and not just of our culture. Look at Ramrajatala and Ram Mandir in Serampore. If Lord Ram isn't a part of Bengali culture, then why are so many places named after him," he said. "But, when we criticise a Nobel laureate like him, we are branded as uneducated," he added.
"Dr Sen thinks people are being beaten up in the name of Ram. But, in reality, those chanting 'Jai Shri Ram' are being assaulted in West Bengal. The chief minister openly called the chanting of 'Jai Shri Ram' a crime," Shah said.
In the name of Ram
But, whether or not 'Jai Shri Ram' is native to the state, the fact remains that the name of Lord Ram and the festival of Ram Navami are being used to blatantly display of power and authority by fringe right-wing elements in the state.
In April this year, hundreds of Ram Navami rallies were taken out across the state, including some where members brandished maces and swords, according to media reports.
Ghosh refutes allegations that such processions are being carried out by "outsiders" from Uttar Pradesh and Bihar. Defending the participants in such rallies, he said they had carried arms to protect themselves.
He refused to link politics with the celebrations despite the Opposition seeing Ram Navami rallies as a tool to mobilise some kind of "pro-Hindutva" brigade.
Kolkata-based political analyst Professor Biswajit Das said Sen's remark was being misinterpreted and quoted out of context. Professor Sen is one among the greatest Bengali intellectuals and his understanding of the Bengali culture cannot be questioned, he says.
However, he asserted that it will be wrong to say worshipping Lord Ram isn't a part of Bengali culture. "In several villages, Lord Ram is worshipped on a daily basis. I have seen Ram temples in several villages in Purulia and Bankura districts." However, it is new to the culture of Bengal that the slogan 'Jai Shri Ram' is being used in political context, he points out.
In a cosmopolitan city like Kolkata, Professor Das argues, that holding religious rallies must not be seen as a political move. But in the current scenario, the line between religion and politics seems to have blurred.
Also read: Why India is showing an increased thirst for instant mob justice