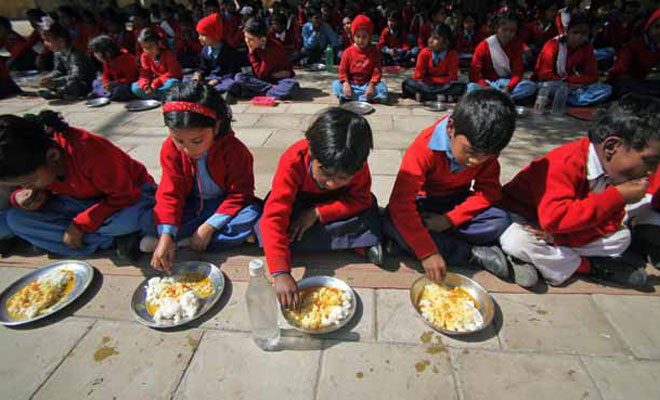 India slips in malnutrition parameters for children and women
In four of the five years of the NDA government's first term, India slipped in malnutrition parameters for young children and women, reversing gains made under previous regimes. The National Family Health Survey-5 report, the latest data set on health and nutrition parameters, showed that of the 22 states and UTs covered under Phase I for 2019-20, a majority reported an increase in malnutrition parameters such as stunting and wasting of children, anaemia in children and in women between 15-49 years of age.
Stunting refers to lower than expected height for age, wasting shows lower than expected weight for height, and anaemia is a deficiency of haemoglobin in blood. Now a global pandemic and consequent losses to the economy would have exacerbated hunger in 2019-20 and would likely lead to worsening the already worrisome nutrition statistics. Given this background, one would have expected the Union Budget for 2021-22 to enhance allocations for flagship central schemes to address child malnutrition as well as for schemes promoting nutrition for pregnant and lactating mothers.
But the budget seems to have done the reverse. Not only has it merged some flagship schemes, making it near impossible to determine scheme wise allocations, allocations for some of these schemes have been cut.
The ICDS (Integrated Child Development Scheme), for example, is a flagship scheme to provide health, nutrition and education to children under six years of age and lactating women through aanganwadis. Another flagship scheme, the Pradhan Mantri Matru Vandana Yojana (PMMVY), entitles pregnant and lactating women to Rs 5,000 for their firstborn.
An analysis by the Right to Food Campaign (RFC) shows that the combined budget for nutrition schemes – Umbrella ICDS, aanganwadi services, Poshan Abhiyan, Scheme for Adolescent Girls and the National Creche Scheme – has been slashed by more than a fifth to Rs 20,105 crore from Rs 24,557.4 crore in 2020-21. And all these schemes have been clubbed under 'Saksham', making year-wise allocation comparisons tough.
Similarly, the allocation for another set of flagship schemes, including PMMVY, has been reduced from Rs 2,828 crore in FY21 to Rs 2,522 crore in FY22. These schemes have been clubbed under Samarthya.
The reduction in budgetary allocations after a pandemic have also happened despite a worrying trend in actual utilisation of the monies in 2020-21. The revised estimates for ICDS-Aaganwadi Services, for example, show that utilisation has been about 16 per cent less at Rs 17,252.3 crore versus BE of Rs 20,532.4 crore in the current fiscal. The utilisation under the Poshan Abhiyan has been less than a sixth of the allocation at just Rs 600 crore (Rs 3,700 crore) and just a fifth of the Rs 250 crore allocated for adolescent girls has been used. Ditto for PMMVY, where just about 50 per cent of the Rs 2,500 crore allocation in the current fiscal has been used.
Noted economist Jean Dreze pointed out that, with the latest round of cuts, the tale of neglect of the scourge of malnutrition under the NDA government has been highlighted. He said the allocation for Integrated Child Development Scheme (ICDS) has been slashed by a fourth and for the mid-day meal scheme by a third in FY22. Dreze has compared the allocations for these two schemes in 2014-15, the first year of the NDA government, with the allocations for FY22 and adjusted the amounts for inflation.
And the RFC has expressed dismay at the budget cuts. "At a time of growing hunger and malnutrition, Union Budget 2021-22 has actually reduced allocations for crucial social security schemes such as ICDS, mid-day meals, maternity entitlements and NREGA. The revised budget for FY20 shows that ICDS and PMMVY suffered greatly in 2020-21 due to the lockdown and closing of aanganwadi centres. The RE for PPMVY at Rs1,300 crore is barely half of what was allocated for the programme. That itself was low as the scheme covers only the first child…in FY22 budget, ICDS and PMMVY have been clubbed with other schemes but comparing like with like, it is clear that both programmes have been undermined."
Meanwhile, the NFHS-5 data points to a worrying trend in most states. In Assam, nearly every fifth child under five years was wasted in 2019-20 against nearly every sixth in the previous survey. In women aged 15-49 years, anaemia had increased manifold, from not even one in two such women anaemic in 2015-16 in Assam to nearly two in three suffering from anaemia four years later. Anaemia in children under five years of age has nearly doubled in the state, with two in three kids below five now anaemic versus only every third earlier.
Bihar now has at least every fifth under-5 child showing signs of wasting and another nearly 9 per cent who are severely wasted. Goa has seen the number of stunted, under-5 kids jump from 20 per cent to nearly 26 per cent and the same age profile of kids with anaemia now well over the half-way mark at 53.2 per cent versus 48.3 per cent four years back. In Tripura, every third child is stunted, every sixth wasted and two in three now suffer from anaemia. In 2015-16, less than one in two were anaemic and a fourth were stunted. Other states too have reported worsening parameters in stunting, wasting and anaemia.
Eight in 10 children under five years of age in Gujarat were anaemic in 2019-20 versus about two in three in 2015-16. In Jammu & Kashmir, three in four kids aged five years or less are anaemic against just about every second in 2015-16. The state has also shown an alarming increase in the proportion of women aged 15-49 who are anaemic: from nearly every second to two in three now. Southern states including Karnataka, Kerala and Telangana have also witnessed increasing anaemia. The Union Territory of Ladakh still has at least 9 in 10 under-5 kids and women in the relevant age group suffering from anaemia.