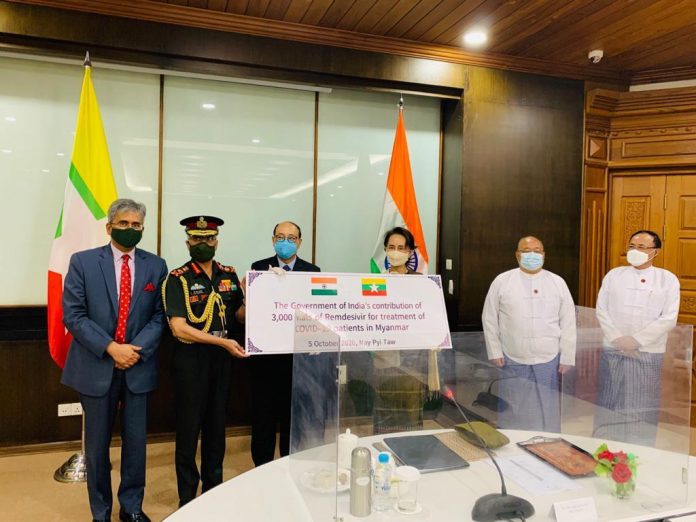 Revitalization of security and development cooperation between India and Myanmar on Monday transcended bilateral ties to assume larger geopolitical significance as India is trying hard to recalibrate its 'neighbourhood-first' policy.
Indian Army chief General MM Naravane and foreign secretary Harsh Shringla are currently in Myanmar capital Naypyidaw, where they met State Counsellor Aung San Suu Kyi and Commander-in-Chief of Armed Forces of Myanmar Senior General Min Aung Hlaing on Monday.
Also Read: Myanmar seeks international help against 'China-backed' rebel groups
"The two sides discussed maintenance of security and stability in their border areas and reiterated their mutual commitment not to allow their respective territories to be used for activities inimical to each other," the external affairs ministry said in a statement issued after the bilateral meet.
Advertisement
A stable bilateral tie with Myanmar is important for both India's internal and external security as it shares some 1,624 km of land border with insurgency-prone northeastern states and also a disputed border tri-junction with India and China at Diphu pass on the McMahon Line.
The mountain pass in Arunachal Pradesh, incidentally, is part of the protracted border dispute between China and India since 1960 when the India's two eastern neighbours demarcated their border to Diphu Pass, which is five miles south of the watershed of the mountain ranges. India, however, insists the tri-point to be at the watershed.
The contentious tri-junction got renewed military attention after  People's Liberation Army (PLA) of China handed over five youths from Arunachal Pradesh who had 'inadvertently strayed to the other side of the LAC' at Kibithu in Anjaw district near the border tri-junction on September 12.
What intrigued the India's security establishment was the PLA's choice of location for the release because the tri-junction was at the easternmost border of Arunachal Pradesh whereas the youth had crossed the LAC several hundred kilometres away in Upper Subansiri district in the northern part of the state.
China has already developed road infrastructure near the tri-junction. To counter China's infrastructure push along the border, India last month decided to expedite construction of the proposed 2,000-km Arunachal Pradesh Frontier Highway along the border passing through Kibithu, near the tri-junction with China on the north and Myanmar to the east.
Also Read: How China prevented India's capture of northeast militants from Myanmar
A similar border road project at Lipulekh pass at the tri-junction of India, China and Nepal drew the ire of Nepalese government in May this year, ostensibly at the behest of China.
It's crucial for India to take Tatmadaw, Myanmar's armed forces, into confidence over its border infrastructure development plan, particularly at the tri-point, to avoid any misunderstanding.
Indian Army chief General MM Naravane and foreign secretary Harsh Shringla who had reached Myanmar's capital Naypyidaw on Sunday held discussions on important bilateral issues with State Counsellor Aung San Suu Kyi and Commander-in-Chief of Armed Forces of Myanmar Senior General Min Aung Hlaing on Monday.
Apart from the external security issues, the two countries during the discussions reportedly also gave stress on further strengthening military cooperation to tackle insurgency as despite joint operations by the armed forces of the two countries codenamed "Operation Sunshine," militant groups of northeast continue to use Myanmar as their bases for carrying out subversive activities and smuggle Chinese arms into India.
🇮🇳 India Myanmar 🇲🇲

Chief of the Army Staff Gen. MM Naravane & @harshvshringla Foreign Secretary called on Commander-in-Chief of Myanmar Defense Forces H.E. Sr. Gen. Min Aung Hlaing on Oct 5, 2020 in Nay Pyi Taw. They discussed issues of bilateral importance. pic.twitter.com/VFd4WdTpl1

— India in Myanmar (@IndiainMyanmar) October 5, 2020
The Indian home ministry in an affidavit before the Unlawful Activities (Prevention) Tribunal in Guwahati submitted a few days ago that United Liberation Front of Assam (Independent)  (ULFA) chief Paresh Barua is currently based in Ruili in Yunnan Province of China from where he is carrying out anti-India activities.
The ministry also said his outfit has a base in the Sagaing division of Myanmar.
Not only ULFA, several other militant groups of Manipur and Nagaland too have their bases in Myanmar while their leaders stay in Ruili, a Chinese town bordering Myanmar, intelligence sources said.
To win the fight against insurgents, security experts for long have been insisting India needs more active cooperation from Myanmar by strengthening bilateral ties. In this regard, India has committed to help Myanmar in the border area development programme, Rakhine state development programme aimed at ensuring an early return of displaced Rohingiyas, in energy and other sectors.
Under the border area development programme around 140 projects such as the construction of roads and bridges, health centres, schools etc have been taken up in Myanmar's Chin state and Naga Self-Administered Zone in Sagaing Division, sources said.
In Monday's meeting, India reassured its commitment for the overall development of its eastern neighbour, including in its fight against Covid-19.
Also read: CBI crackdown on cow smuggling reveals two dirty secrets
India indicated its willingness to prioritize Myanmar in sharing Covid-19 vaccines as and when it is available, the ministry of external affairs said in the communiqué.
India's outreach to Naypyidaw is part of New Delhi's ongoing attempt to increase its influence in the neighbourhood amidst visible signs of some of the Indian neighbours drifting towards China.
In August foreign secretary Shringla had rushed to Dhaka amidst speculations of strain in ties between the two countries.