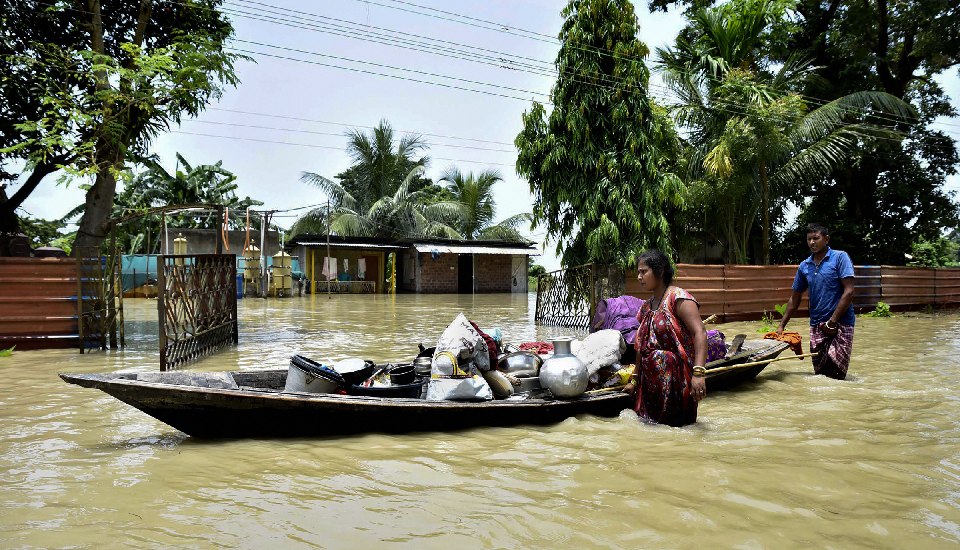 Inadequate equipment impedes relief efforts during Assam floods
Assam floods is an annual affair. Every year after the monsoon strikes North East, 'Assam floods' make a brief appearance in headlines. But search and relief equipment for flood in all districts continue to remain inadequate.
This year, 27 districts in Assam were marooned by the deluge, which has so far claimed 50 lives and affected 48.8 lakh people. The flood situation showed little improvement on Friday (July 19) as the water level started to recede in some districts. Thus, the focus has shifted to relief operations but lack of required equipment is slowing down the process.
"We are unable to send food and water packets to people who are stuck in remote areas on time because the roads are blocked," District Project Officer (DPO) of Dhubri in Assam, Moferjal Sarkar, told The Federal.
Dhubri is one of the worst affected districts as nearly 10.85 lakh people are displaced due to the floods. The district has just 30,420 search and rescue equipment such as life jackets, boats, life buoy, deep diving suit and under-water breathing apparatus.
"Delivering food packages to remote places gets delayed by a day because the airlift services are not that frequent," Sarkar added.
Also read: Death toll due to floods in Assam, Bihar nears 150; over 1.15 crore affected
Currently, 755 relief camps are operational in the districts of Dhemaji, Lakhimpur, Biswanath, Sonitpur, Darrang, Baksa, Nalbari, Barpeta, Chirang, Bongaigaon, Kokrajhar, Dhubri, Goalpara, Kamrup, Morigaon, Nagaon, Karbi Anglong, Golaghat, Jorhat, Dibrugarh, Tinsukia, Cachar and Karimganj districts. These camps are accommodating 1.47 lakh people.

Around 304 relief distribution centres are operating in the districts of Lakhimpur, Darrang, Nalbari, Barpeta, Bongaigaon, Kokrajhar, South Salmara, Kamrup, Kamrup (M), Morigaon, Nagaon and Golaghat.
The delay in services are due to lack of communication, which were disrupted during the floods. "We are using very high frequency (VHF) radio waves to communicate to the Assam State Disaster Management Authority (ASDMA)," he said.
Also read: 90% of Kaziranga National Park submerged; anti-poaching camps affected
Sarkar had raised concerns about the shortage of rescue and relief equipment to ASDMA, following which they provided 20 additional teams from National Disaster Response Force (NDRF).
"It is not enough. The equipment that we have are still not enough," Sarkar said.
Ronney Rajkumar, DPO of Golaghat district, feels the same. "We require more equipment to deal with this situation." In Golaghat, 95,770 people are affected but only 12,305 search and rescue equipment are allotted to the district. As of now, 180 boats belonging to NDRF are being used for rescuing people.
Rajkumar said there is always a requirement of more equipment as year-by-year the intensity of flood increases due to climate change. "In the past couple of years, we have asked for more equipment; we hope the government will provide it," he said.
Meanwhile, in the absence of required equipment, the rescue team in Golaghat is using boats built by local organisations and NGOs to rescue people. The community too feels the need for more boats and therefore, they came together and built a replica of the government boats to be used during floods, Rajkumar said. These boats are built using resources that are available such as wood, used motors and bamboos.
Also watch: Why does Assam experience floods every year?
One of the major reasons for slow acquisition of flood control equipment may be funds. The state's budget allocation for flood control projects declined by 36 per cent in 2019-20. The Assam government allocated ₹2,317 crore for irrigation and flood control, of which flood control projects received ₹672 crore.
Meanwhile, the financial assistance given by the Centre under the Flood Management Programme (FMP) introduced during the Eleventh Plan has been declining over the years. The state received a central assistance of ₹245 crore and ₹142 crore in 2017-18 and 2018-19, respectively. Till date, Assam has received ₹1,201.36 crore from the Centre under FMP.