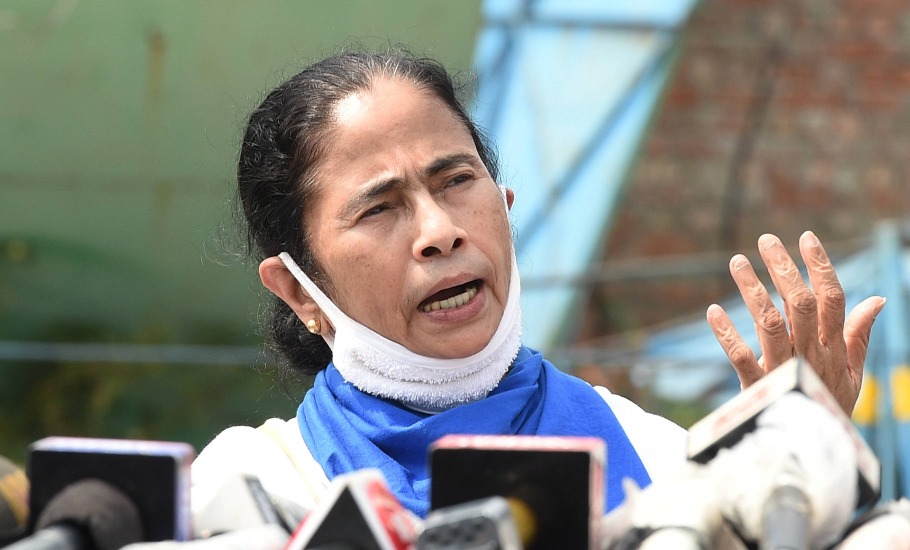 In poll season, Mamata adds 'Maa' to birth-to-death welfare schemes
West Bengal Chief Minister Mamata Banerjee on Monday (February 15) launched her government's 'Maa' scheme under which meals will be provided at a nominal cost of ₹5.
The food scheme is another addition to the long-list of welfare and populist schemes on which the Banerjee's Trinamool Congress government is heavily banking to win assembly elections a third time in a row.
"From birth to death, there is a welfare scheme in the state, which is not available anywhere else," Banerjee often reiterates in her election rallies.
From state secretariat Nabanna, the Chief Minister virtually inaugurated the subsidized kitchens in various towns and cities, including Kolkata. Gradually, such kitchens would be expanded to every corner of the state, the chief minister said.
A meal platter will include 200 gram of rice, dal, a vegetable dish and egg curry. The kitchen will be operated by self-help groups from 1pm to 3pm every day. The state government would bear a subsidy of ₹15 per plate to run the scheme, the Chief Minister said.
Also read: Bengal polls between Modi's 'vikas' and Mamata's 'vinash' models: Amit Shah
In the state budget presented earlier this month, ₹100 crore has been allocated for the scheme, which is a replica of former Tamil Nadu Chief Minister late J Jayalalithaa's electorally hit Amma Unavagam (Mother's canteen) launched in 2013.
The state government would provide rice from the ration quota to the kitchens, chief minister told at the launch of the scheme.
Though the scheme aims to cater to the poor, the canteens will be open for all.
To begin with, in Kolkata alone 16 such canteens have been launched on Monday, barely a couple of months ahead of assembly elections.
To return to power, the TMC government is banking on a slew of welfare schemes it has introduced after taking over the government in 2011.
Also read: Mamata rejected PM's scheme to satisfy her ego: Nadda in Bengal
In the state budget presented by her in the absence of ailing finance minister Amit Mitra on February 5, she announced the 'Maa' and several other welfare schemes, further raising poll-pitch in populism.
The other major populist announcements include an old-age pension for all above 60 and all widows above 18, and allocation of ₹10 crore to provide loan of ₹50,000 to ₹10 lakh to stakeholders of the travel and hospitality sectors. The state will pay 50 per cent of the first year's loan repayment instalment.
The scheme to provide free tab to students in Class 12 at government schools and madrasas, introduced to help them take online classes during pandemic, has also been extended to every year.
Already the state government transferred ₹10,000 to the bank accounts of over nine lakh students under the scheme christened 'Taruner Swapna.'
Banerjee has further announced continuation of free ration and Swasthya Sathi scheme that provides medical insurance coverage of ₹5 lakh per annum to each family.
The state government runs more than 20 welfare schemes, including three internationally acclaimed programmes — Kanyashree, Sabooj Sathi and Utkarsh Bangla.
Kanyashree that bagged the UN award in 2017 is a cash transfer scheme meant for socio-economically disadvantaged families. It aims to incentivise schooling of teenage girls and delaying their marriages until the age of 18, the legal age of marriage. So far 70,01,902 girls got the benefit of the scheme launched in 2013.
Under Sabooj Sathi bicycles are provided to students studying in classes IX to XII in government and government-aided schools and madrasahs of the state. The scheme helped reducing the school drop-out rate. Over 80 lakh students got free cycles under the scheme since it's launched in September 2015.
The 'Utkarsh Bangla' project aims at creating a pool of industry ready skilled candidates. As on February 15, as many as 3,15,025 trainees have been registered for skill development.