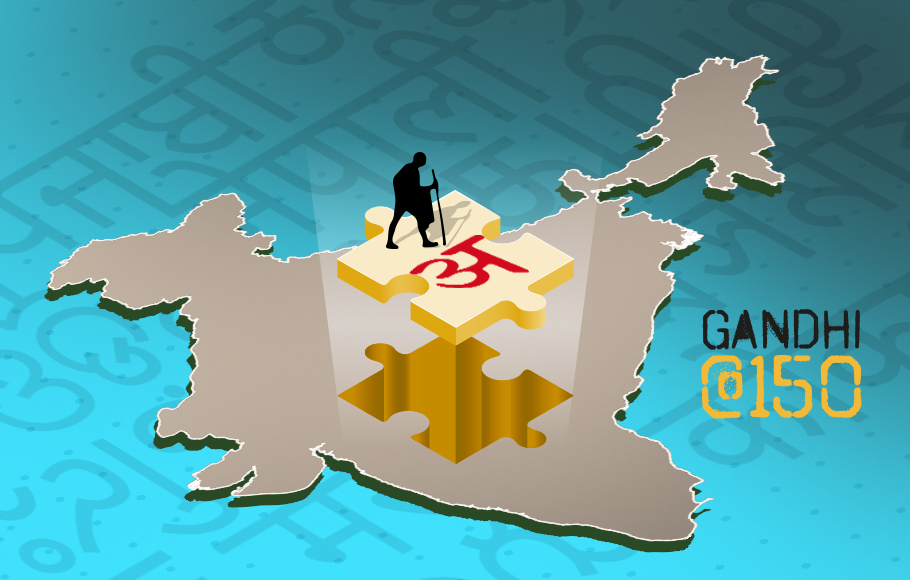 After experiments with Hindi as national language, how Gandhi changed his mind
The iconic line 'Ek gaon mein ek kisaan Raghu thaatha' from the Tamil movie Indru Poi Naalai Vaa resonates every time the debate over imposition of Hindi resurfaces in South India.
The teacher in the movie wants his reluctant student to learn Hindi. But every time he says 'rehta tha' the student ends up saying 'Raghu thaatha'. much to the dismay of the teacher. This goes on for a few times until the dismayed teacher loses patience and gives the student a sound beating.
The humorous scene aptly captures the difficulty in imposing Hindi, which has been a contested subject in South India from the pre-Independence era.
On September 12, Home Minister Amit Shah during his speech on Hindi Divas, invoked Mahatma Gandhi and Sardar Patel while backing the idea of Hindi as unifying language of India. Shah said it was important to have a common language in the country and appealed to people to use Hindi to make the dream of Bapu (Mahatma Gandhi) and Sardar (Vallabhbhai) Patel of one language come true.
Also read: Gandhi's Tamil connection is a story of mutual admiration
But what was Gandhi's view on Hindi language imposition?
During his visits to South India, someone used to translate Gandhi's speeches in the local language. For instance, during one of his speeches in 1936, a young boy, HN Narasimaiah translated his speech into Kannada to reach out to the local audience. Narasimaiah went on to follow the Gandhian path and achieve greater heights in Karnataka's education sector.
But Gandhi was not comfortable with the thought that he could not directly communicate with the masses in the South. Though a Gujarati native speaker, Gandhi thought that a language to unify the country was needed.
In the initial years, he was inclined towards Hindi. Gandhi, in fact, asked a Kannada speaking audience in a public gathering if it was too much to study Hindi for four hours each day for a month so as to cultivate contact with 200 million own countrymen, notes Ganpat Teli, a research scholar and assistant professor at Jamia Millia Islamia.
In 1918, Gandhi even founded the Dakshin Bharat Hindi Prachar Sabha, a forum to teach Hindi to South Indians. He was convinced that it had the potential to unshackle India from the colonial rule and over-reliance on English.
Also read: Gandhi will continue to thrive in spite of attempts to turn his legacy on its head
During his campaign for a unified national language, he chaired sessions of Hindi Sahitya Sammelan at Indore twice in 1918 and 1935 besides delivering presidential speeches. This concept, which excluded the people in the South, was an attempt to harness linguistic self-determination for the Independence movement. However, it only reflected the linguistic hegemony of the north.
However, around 1942, Gandhi started to promulgate the adoption of Hindustani, a fusion of Hindi and Urdu (not Hindi) as the unifying language in the country.
In chapter 27 of his autobiography, he talks of his first speech in Hindustani. When Viceroy Lord Chelmsford invited Gandhi to a war conference in Delhi to discuss recruitment of Indians for the Great War, Gandhi sought permission to speak in Hindi-Hindustani.
In the autobiography, he says, the congratulatory messages and the discovery that he was the first to speak in Hindustani at such a meeting hurt his national pride. Gandhi notes that it was a tragedy that the language of the country should be a taboo in a meeting held in the country, for work related to the country. "Incidents like these are reminders of the low state to which we have been reduced," he writes.
Also read: How Gandhi's views on caste, race and God evolved through the years
But it was at this meeting it struck him that Hindi-Urdu alone could become the lingua franca of India.
Researchers point that Gandhi was not consistent about the nomenclature of the said language (Hindustani). Initially he was using the term Hindi, then Hindi-Hindustani and later called it Hindustani.
According to historian Ramachandra Guha, Gandhi believed Hindustani could unite North with South and Hindus with Muslims. He argues, like Jawaharlal Nehru, Gandhi viewed Hindustani, rather than English, as the rashtrabhasha, or national language.
His views on Hindustani developed only in the later years of his life, post 1942 because he considered that Urdu was a matter of religious importance to Muslims and hence it should be respected and nurtured for that reason. He even set up a Hindustani Prachar Sabha in 1942.
Guha notes that in 1945 Gandhi engaged in a lively exchange with Purushottamdas Tandon, a man who fought hard to rid Hindi of its foreign elements. Tandon, who was the vice president of the All India Hindi Literature Conference, held that Hindi with the Devnagari script alone should be the national language.
Also read: The myth of a saint, legacy of a politician and appeal of a global inspiration
But, Guha says, Gandhi, a long time member of the Conference, was dismayed by its chauvinist drift as he believed that both the Devnagari and Urdu scripts should be used. He, in fact, considered resignation from its membership. Gandhi argued, "How can I ride two horses? Who will understand me when I say that rashtrabhasha=Hindi and rashtrabhasha=Hindi+Urdu=Hindustani?" Guha notes.
Bangalore-based freedom fighter HS Doreswamy, who turned 101 recently, says that Gandhi never wanted to force the language on people. He, however, wished for a common language that could unite the country to fight against the British. Even then, he pushed for Hindustani and not Hindi, so that it could bring both Hindus and Muslims together and not looked at it from a divisive mind.