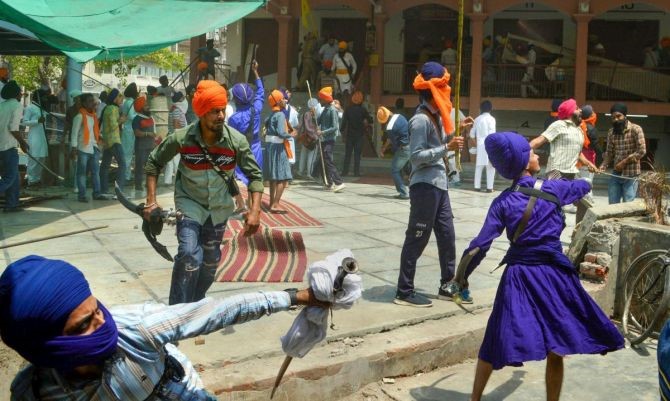 Honeymoon over: AAP under fire over rising law & order issues in Punjab
The violent communal clashes in Patiala, on April 29, have come as a rude shock to the newly elected Aam Aadmi Party (AAP) government in Punjab. It has made them realise the perils of ignoring simmering challenges in the border state, such as the precarious law and order situation.
Brandishing swords and hurling stones, members of a Hindu right-wing outfit Shiv Sena (Bal Thackeray) – the organisation, which has no links with Maharashtra Chief Minister Uddhav Thackeray's Shiv Sena – had clashed with pro-Khalistani groups outside the Kali Mata Mandir in Patiala.
The violent altercation, which was reined in after the local police were compelled to use force and fired gunshots in the air, however, wasn't unexpected.
Over a fortnight ago, the banned, overseas pro-Khalistan fringe outfit, Sikhs for Justice, had given a call to mark April 29 as 'foundation day of Khalistan'. In retaliation, Harish Singla of Shiv Sena (Bal Thackeray) – one of the many rabid pro-Hindu Shiv Sena factions in Punjab – announced a 'Khalistan Murdabad March'.
Both sides had used various social media platforms to aggressively mobilise support for their respective marches. Several representations were also made by the two rival camps to the police to prevent the other from conducting the march. Clearly, the police and local administration paid no heed to the vicious build-up gaining momentum on social media. And so, on April 29, when the two groups converged at the iconic Kali Mata Mandir, there was absolute mayhem.
Upset with the stinging criticism from his rivals, Punjab CM Bhagwant Mann and his AAP, have accused the Opposition of fomenting communal strife using the Patiala episode. Mann and Delhi CM Arvind Kejriwal have assured that the perpetrators of the violence will be punished.
There have been nine arrests in the past 48 hours. Among those arrested are also the key orchestrators of the clash, Sena's Singla and alleged Khalistan supporter Barjinder Singh Parwana. Restive normalcy is slowly returning to Punjab with the police on overdrive to book the rioters.
Yet, the fact that this incident occurred despite intelligence inputs has laid bare the Bhagwant Mann-led government's inexperience in handling law and order problems, most importantly, those arising out of communal and secessionist fault-lines that have periodically plunged Punjab into chaos.
Also read: 'Mastermind' of Patiala clashes arrested in Mohali
This isn't good news for a party that came to power with an unprecedented mandate of 92 seats in a 117 member assembly – just 45 days ago. For Mann, his administration's abject failure in preventing the Patiala incident, is also bound to bring into focus the AAP government's other lapses on the law and order front that has, hitherto, escaped public scrutiny.
Revival of gang violence in Punjab
For the past 45 days, the AAP's rivals in Punjab – the Congress, the Shiromani Akali Dal (SAD) and the BJP – have been accusing the Mann government for using the police for political vendetta. There have been allegations against AAP lawmakers and workers that they have forcefully seized control of truck and transport unions (reported earlier by The Federal) and of the revival of gang violence in the state after AAP government has taken over.
However, Mann's populist announcements and his whirlwind tours, with Kejriwal, to upcoming poll-bound states like Gujarat and Himachal Pradesh, where AAP is eying an impressive political debut at the end of this year, had provided the party a comfortable diversion from the law and order problems in Punjab. Until now, criticism against Mann had been largely restricted to allegations that he had allowed Kejriwal to meddle in Punjab government's affairs and had surrendered his mandate of running the state to his party chief and Delhi counterpart.
The Patiala episode could change this.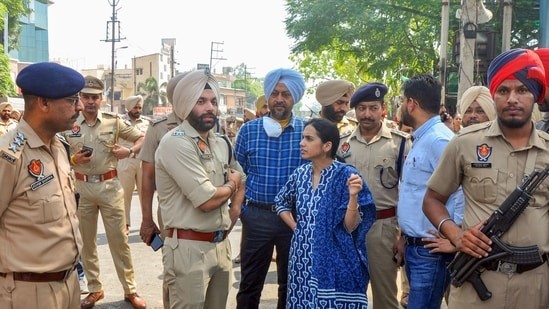 Daylight murders involving alleged gangsters have been reported in many parts of the state over the past month. On March 14, prominent kabaddi player, Sandeep Singh, was shot dead by five unidentified assailants during an ongoing kabaddi match in Mallian village in Jalandhar district. Then, on April 5, another kabaddi player, Dharminder Singh, was shot dead in Patiala.
The targeted killings of kabaddi players are believed to be an outcome of criminal gangs trying to control kabaddi tournaments – a very popular sport across Punjab – for money, match-fixing and betting.
Pritpal Singh Baliwal, spokesperson of the Punjab Lok Congress floated by former Congress CM Captain Amarinder Singh ahead of this year's assembly polls, claimed that gangsters in Punjab were involved in at least 20 murders in the last one month. "For this badlaav (change), Punjab voted for you?" Baliwal questioned.
Also read: Mobile, internet services suspended in Patiala; top cops transferred
Anti-Gangster Task Force
AAP's Malvinder Singh Kang, however, accused the Opposition of sensationalism. The Mann government has already set up an Anti-Gangster Task Force to deal with the situation, Kang said, adding, "gangsters in Punjab survived on political patronage but our government has given clear instructions to the police to act decisively against them."
The Opposition is clearly not impressed by AAP's claims. "Instead of creating hype with big announcements like the creation of an Anti-Gangster Task Force, the need of the hour is strict directions to all police stations to conduct law and order duties in a professional manner," said Daljeet Cheema of SAD, adding that Punjab's law and order situation has taken a turn for the worse after the AAP stormed to power.
Punjab DGP VK Bhawra claims the average number of murders in a month has, in fact, reduced to 50 this year, against 60 and 65 murders reported in 2021 and 2020, respectively. The claim may be misleading since the AAP government has been in power only since March 16.
Bhawra conceded that six gangster related murders had been witnessed this year. But he added that all the cases were solved and a total of 24 accused have been arrested in these cases. "This is not a happy situation, but the Punjab police have been making strenuous efforts to eliminate the gangster culture in the state and will continue to make efforts in this direction," said the DGPl.
Another 'situation', however, has risen in Punjab. When Mann took oath as Punjab's 17th CM, he had promised his government will not indulge in political vendetta. But AAP's first month in office appears to be no different than the previous regimes on this score.
The state police recently filed a criminal case against AAP chief's former colleagues-turned-rivals – Kumar Vishwas and former AAP MLA from Delhi's Chandni Chowk constituency, Alka Lamba – for pre-election statements against Kejriwal.
This is reminiscent of the decades-old 'badla' (revenge) culture prevalent in the border state. Captain Amarinder Singh had sent the Badal family of Shiromani Akali Dal (SAD) to jail during his first tenure as CM in 2002. Later, the Badal family slapped multiple cases of corruption and disproportionate assets against Amarinder, when they returned to power in 2007. None of these cases reached a logical conclusion; a proof of nature and purpose of such cases.
Also read: Patiala tensed as Shiv Sainiks, Nihangs clash over Khalistan protest rally
The AAP regime has been no different. Three BJP leaders, all outside Punjab, had also been booked by the Punjab police for writing or posting videos against Kejriwal on their social media accounts.
"This is why Kejriwal wanted control of the Delhi police from the Centre, so that it could be used against those critical of him," Lamba posted on her Twitter handle, after she received the Punjab police notice to join the investigation on April 26 for alleged inflammatory speech against Kejriwal during Punjab polls.
The FIR against Lamba gave the Punjab Congress, including newly-appointed state unit chief Amarinder Singh Raja Warring, listless since their electoral rout, a chance to launch an offensive against AAP and several party leaders. In fact, leader of Opposition, Partap Singh Bajwa, accompanied Lamba to the police station when she responded to the summons.
The AAP has also been accused of turning a blind eye to "political murders" allegedly committed by the party's supporters since the election results. Former Punjab Congress chief Navjot Sidhu and several of his colleagues have claimed that a party worker, Iqbal Singh of Kasowana village in Ferozepur's Zira, was allegedly attacked by AAP workers on March 12, two days after the Punjab verdict. He later succumbed to his injuries.
Another Congress worker, Makhan Kanga, was shot dead allegedly by six armed men associated with an AAP leader, on March 28, claimed Sidhu.
The police have, however, rejected these claims and dubbed the murders as the result of "personal rivalry". The Congress has rejected it, alleging a 'cover up' by the AAP government. With the Patiala episode now forcing Mann to respond to the charge of lawlessness in the state under his watch, the Opposition is now hopeful the AAP's honeymoon period is over.
"They could divert attention from the earlier lapses because there was so much publicity to where AAP is headed next. Even those critical of AAP were focusing more on how Kejriwal had turned Mann into a rubber stamp CM and was running Punjab through his proxy (Mann). The flare-up in Patiala has forced everyone to take note of how AAP has thrown a sensitive border state like Punjab, which has had a history of militancy, into a law and order crisis because of its incompetence," said Lamba.