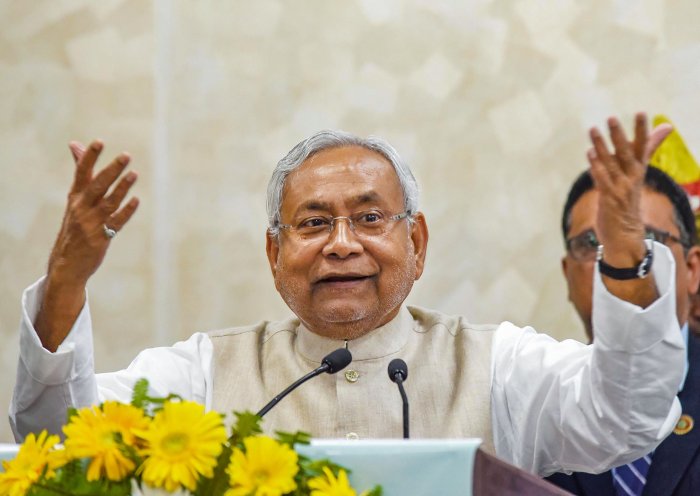 For Nitish Kumar, Machiavellian power scores over ideology
Bihar chief minister Nitish Kumar has played too much politics in his long, active political career spanning over three decades but this time, he seems to have got caught in the web woven by himself. With his ally, the BJP, implementing its agenda one after another, the JD-U is apprehensive of losing the huge Muslim voters' support for backing the contentious Citizenship Amendment Bill triggering nationwide protests. So much so that, Nitish is now "communicating" through his men that the National Register for Citizens (NRC) won't be implemented in Bihar.
Strangely no one is ready to believe the chief minister now, owing to the history of frequent reversals of his stands to remain in power.
What is even stranger is that Nitish is communicating this "news" through a group of trusted lieutenants, such as party vice-president Prashant Kishor, national general secretary KC Tyagi and Shyam Rajak, a cabinet colleague. He has not made any announcement himself which raises doubts about his intentions.
As such, Nitish, whose fellow Kurmi caste men account for roughly about four percent of the total vote-bank, has always played clever politics for political gains. And, he has always succeeded in his attempts as the masses get trapped in his "confusion politics".
Also read: Nitish Kumar, the clever Ku-Ku squished by Hindutva CAB
With the assembly elections due next year, the CM's idea, experts say, is to keep the masses "in dark" about the NRC. Any hasty move by him over the issue could spoil the party's poll prospects. So, it is Kishor, Tyagi and Rajak who are speaking against the NRC and the not the CM himself!
The 'credibility loss' in public is to an extent that some of his own party leaders, are not convinced by his obscure move and want Nitish to clarify his stand.
"I welcome Nitish Kumar's decision of not supporting the NRC but he should issue a statement and publicly declare that he will not allow its implementation in Bihar," JD-U's national general secretary Pawan Kumar Varma said. He is one of the few JD-U leaders who opposed the party's decision to support the CAB.
The move is self-explanatory. "Nitish Kumar has exhausted all his cards; nothing is left now. So, whether he supports or opposes the NRC, he is not going to get the support of the Muslims who backed him earlier despite his party's alliance with the BJP. Muslims feel cheated now. They have lost faith completely in the man," explains Soroor Ahmed, a political analyst.
Ahmed, who has worked for prominent media houses, says Nitish has now become entirely dependent on BJP's vote-bank for survival and that is a big setback to his political career. "The dependence on the BJP vote-bank would mean less number of seats to the JD-U under seat sharing arrangement which means loss of bargaining capacity and ultimately removal from the throne. Perhaps, Nitish didn't make proper calculations before blindly backing the BJP's agenda. But it's much late now," Ahmed explains.
Also read: In Nitish's Bihar, only ministers get to see achhe din
According to political analysts, Nitish always knew that he had no support base like Rashtriya Janata Dal (RJD) president Lalu Prasad, and hence has always tried to be "vague" in his approach to keep the masses confused and guessing. This has been his trick to cling on to power and strangely that always kept him in the throne—either at the Centre or in Bihar!
Ever since the JD-U joined the NDA in 1996, it kept on vehemently opposing the BJP's core issues, such as abrogation of Article 370, Triple Talaq and Citizenship Amendment Bill but wasted no time in taking U-turns on the issues. On article 370, the JD-U even went to the extent of saying that none should oppose it as it has become a law!
Likewise, the JD-U had written a letter to the Law Commission in 2017 wherein it called for a debate and broad consultations on the issue of triple talaq before any attempt is made to push it in Parliament. But it ended up supporting it.
On the CAB, a delegation of JD-U led by general secretary KC Tyagi had met Asom Gana Parishad (AGP) in January this year to lend its support in the latter's fight against the controversial Bill. But when the Bill was tabled in Parliament, the JD-U happily supported it in both the Houses.
"Nitish Kumar has completely lost his political credibility as he has never been consistent in his stand. So in my opinion, his game is over as he stands entirely exposed now," said prominent political expert Prof DM Diwakar. According to him, his subtle move to oppose the NRC is hardly going to help him politically as the masses don't believe him anymore.
Also read: How Nitish's smart city plans have doused fire on 'litti chokha' grills
It is really interesting to see how Nitish has frequently been changing his stands on issues to suit his political plans. In 1994, he rebelled against Lalu Prasad over the issue of "corruption" and prevailing "Jungle Raj" in Bihar but in 2015, he joined hands with the same Lalu to win the assembly elections after getting routed in the 2014 LS polls in which the JD-U could win just two seats out of Bihar's total 40 LS seats. Likewise, in 2013, he quit the NDA over the issue of Narendra Modi being projected as the Prime Ministerial candidate, but in 2017, he joined hands with the same man and said "Mitti mein mil jayenge lekin BJP se haath nahin milayenge (I will rather get reduced to ashes if I don't join hands with the BJP)."
Quite similarly, in 2012 Nitish supported UPA's Presidential candidate Pranab Mukherjee against NDA's PA Sangama despite being a part of the NDA. Again in 2017, Nitish supported NDA's Presidential candidate Ram Nath Kovind against UPA's Meira Kumar while being a part of the UPA and running a three-party Grand Alliance government in Bihar in which the Congress was an integral part.
"Nitish Kumar has remained an enigma so far. Many in his own party men don't know what his next course of action will be. Perhaps, that suits Nitish too," says Baliram Sharma, a political watcher.