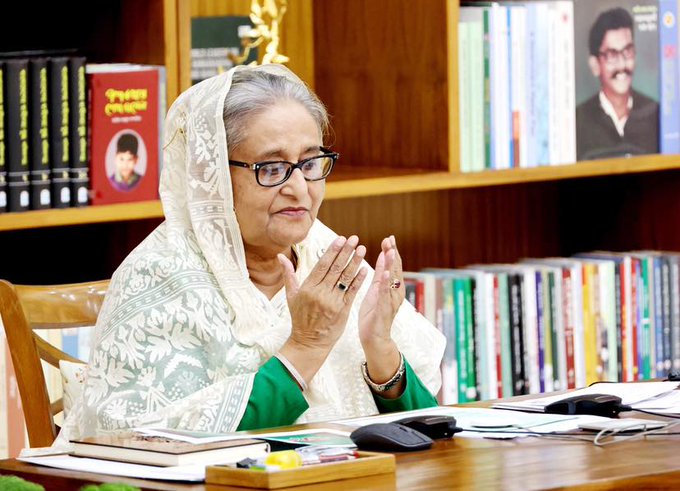 Dragon's breath on Dhaka? Bangladesh's growing Chinese rendezvous worries India
Frequent visits by Chinese "special envoys" to Bangladesh, with the latest being to discuss the Rohingya refugee repatriation issue, has raised eyebrows in Delhi and heightened suspicions that Beijing is close to a silent diplomatic coup of running away with India's most trusted ally in South Asia.
Chinese special envoy Deng Xijun held long meetings with Foreign Minister Dr AK Abdul Momen and Foreign Secretary Masud Bin Momen on the Rohingya issue on Monday (July 31).
China oversaw the tripartite agreement involving Bangladesh and Myanmar for the repatriation of Rohingya refugees back to their homeland in the Rakhine State from where they fled in tens of thousands, especially after the August 2017 military crackdown, to escape "ethnic cleansing".
Opinion: India intervenes to douse tempers in US-Bangladesh spat
With no guarantee of citizenship and safety in their homeland, no Rohingya has gone back so far. United Nations agencies and some western countries have also maintained that the situation is not conducive for Rohingyas to return to Myanmar.
Tips to handle US?
Chinese special envoy Deng Xijun earlier visited Bangladesh on April 6 and discussed the repatriation issue. That visit happened on the eve of Momen's visit to Washington to hold a dialogue with his US counterpart, Secretary of State Anthony Blinken.
"Though Momen later said Xijun's visit was to discuss the Rohingya issue, we have good reasons to believe China was providing Bangladesh with a brief to handle the US," said Sukharanjan Dasgupta, author on Bangladesh.
Also read: As Hasina faces heat in Dhaka ahead of polls, Delhi finds itself in a corner too
He said senior diplomats have told him that since Momen became foreign minister after the last polls, Chinese and Pakistani influence has grown in Dhaka, and their diplomats enjoy more access to top leaders, including Prime Minister Sheikh Hasina, compared to Indian diplomats.
"Momen made a gaffe when he said he had requested Indian leaders during a Delhi visit to ensure Awami League's return to power. It raised questions over the Delhi-Dhaka special relationship but that he has managed to survive says a lot about the political equations in Dhaka," said a senior diplomat with a long tenure in Bangladesh who asked not to be named.
The "Dorbesh coterie"
Momen is one of the nine ministers in the Sheikh Hasina Cabinet who form what is now known as the "Dorbesh coterie" — meaning the close supporters of Hasina's most powerful adviser Salman Fazlur Rahman. The coterie controls all important portfolios like finance, home, information, foreign affairs, water resources, energy, and infotech. Even the PM's son, Sajeeb Wazed Joy, is said to be in a business partnership with Salman and his son Shayon.
"Rahman — or Dorbesh, as he is popularly known as — is so close to Hasina and the Sheikh family that no major decision is taken by the Prime Minister without his nod. Sometimes, it is difficult to figure out who is Prime Minister, she or him!" said Dasgupta, citing several sources, including a classmate of Hasina's elder brother Sheikh Kamal, who was killed in the 1975 coup.
But Rahman, who built the Beximco Group of Companies, is also at the top of the list of money-laundering and bank-defaulting entities.
Also read: BJP's motormouths, domestic politics are irritants in Delhi-Dhaka ties
"Beximco and four other business houses have siphoned off more than 100,000 crore in Bangladesh Taka in the past four years. They are the ones primarily responsible for the huge foreign exchange crisis Bangladesh is facing, which is forcing it to seek World Bank and International Monetary Fund (IMF) help," said a Bangladeshi economist who served the World Bank for many years. He was also unwilling to be named because he has post-retirement investments in Bangladesh and fears retaliatory action.
Debt diplomacy
But while India worries over Bangladesh's economic downslide (after a decade of phenomenal growth) and its possible impact on cross-border migration, it is more apprehensive that this may drive Dhaka into China's debt-diplomacy trap.
According to foreign ministry officials, Xijun's latest visit to Dhaka lasted for three days when he flew down from Myanmar on Sunday. There was no formal announcement of his visit.
In Myanmar, he met with Foreign Minister U Than Swe, Minister for International Cooperation U Ko Ko Hlaing, and Lieutenant-General Yar Pyae, member of the State Administration Council and Chairman of the National Solidarity and Peacemaking Negotiation Committee.
Chinese special envoys have landed frequently in Dhaka since 2019, often ahead of crucial meetings involving Bangladeshi and other foreign leaders. India is also worried over the China-funded Teesta project promoted by Water Resources Minister Zahid Faruk, apparently with Hasina's blessings.
"Hasina has good reasons to be upset with India's failure to sign the Teesta water-sharing treaty for nearly 15 years now. But the Chinese have smartly played into it and could now pose a problem or two," said intelligence analyst Benu Ghosh, who has followed Bangladesh for three decades.
Bangladesh's largest trading partner
"Even though Dhaka's recent Indo-Pacific outlook seems to underscore China's ambition in the Indo-Pacific, Bangladesh's growing tilt towards China stands out prominently. China's unwavering support for the government has played a pivotal role in fostering this alignment. Concurrently, strained relations with the United States, largely stemming from the latter's emphasis on democracy as Bangladesh is growing more authoritarian since 2014, have further propelled Bangladesh's shift towards China," wrote columnist Shafi Mostofa in a South Asian website.
Also read: Wary Delhi watching Dhaka as trouble brews for Sheikh Hasina govt
He wrote that since 2017, Bangladesh has deepened its engagement with China, which has become Bangladesh's largest trading partner. Chinese investments are expected to cross $40 billion, with almost all key mega infrastructure projects in the country financed by Beijing. China has already invested around $9.75 billion in transport projects in Bangladesh, including ongoing initiatives such as the Padma Bridge Rail Link, Bangabandhu Tunnel, and Dasher Kandi Sewerage Treatment Plant.
China has also emerged as the largest source of foreign direct investment (FDI) in Bangladesh, with a gross flow of $940 million in the 2021-2022 fiscal. It also ranked as the top foreign investor in Bangladesh in 2022, with 104 investors operating in eight export-processing zones. Despite the challenges posed by the COVID-19 pandemic, bilateral trade between the two countries witnessed a remarkable increase of 58 per cent in the previous year, reflecting the strong resilience of their trade relationship.
Also read: Dhaka, Seoul snub China's claim on Padma Bridge in Bangladesh
China's implementation of duty-free facilities on Bangladeshi products has been a significant development in bilateral trade relations. Starting from July 1, 2020, China granted duty-free access to 97 per cent of Bangladeshi products entering its market.
This move aimed to promote trade between the two countries and boost economic cooperation. Subsequently, the coverage of duty-free facilities was further increased to 98 per cent, indicating China's commitment to enhancing trade relations and supporting the export-oriented industries of Bangladesh due to its geo-political ambitions. The duty-free access provided by China has been beneficial for Bangladesh, as it helps reduce trade barriers and creates favourable conditions for the export of Bangladeshi goods to the Chinese market.
Where India fell behind
"India has failed to match these moves except the recent decision to introduce rupee-taka trade that helps the Bangladeshi economy," said a veteran Indian diplomat who follows Bangladesh. "But most Bangladeshi contractors who are connected to the ruling party want to work on Chinese- rather than India-funded projects. And they are now the largest single group of Awami League lawmakers because they can buy nominations by bribing senior office bearers, which traditional Awami Leaguers of middle-class background cannot afford."
Bangladesh's military partnership with China has grown significantly and become more transparent over the past five years. Bangladesh has become China's second-largest arms customer, accounting for about 17 per cent of Chinese military exports from 2016 to 2020, following Pakistan. Defence cooperation between the two countries has deepened to include military personnel training in China and collaboration in defence production.
Despite previous issues with Chinese-supplied defence equipment, Bangladesh acquired submarines from China in 2016 to enhance its naval capabilities. In March 2023, Hasina unveiled the country's inaugural submarine base, named BNS Sheikh Hasina, in Cox's Bazar. Constructed by China at a cost of $1.2 billion, the facility has the capacity to accommodate six submarines and several warships. Currently, two Chinese-made submarines are stationed at the base.
A changed Awami League
Dasgupta resents the changing social equations within the Awami League. "The Awami League I knew exists no more. It is now a corporate entity dominated by crony capitalists led by Salman Rahman. The middle-class leadership that enjoyed social acceptability has been sidelined. I feel like calling the party 'Dorbesh League' because a fake dorbesh (dervish) is running it now," said the author of Midnight Massacre, a book on the 1975 Bangladesh coup.
Also read: RSS-linked Vedic Schools expand Hindutva footprint in Muslim-majority Bangladesh
Dasgupta said this explains the loss of grassroots support for Awami League and the rising anti-incumbency, which makes the Chinese advice for one-party state attractive to a section of the party leadership. "But what works in China will never work with Bengalis, and PM Hasina needs to understand this," says Dasgupta. "They taught not only the British and Pakistanis a lesson but also the BJP," he added.
China may have endeared itself to Hasina with its strong support for her regime and by providing investments she saw as crucial to promote economic growth. But if she falls into China's debt-diplomacy trap, which is a possibility, Bangladesh may end up as another Sri Lanka or Pakistan. And that will be a huge loss for India because an economically strong Bangladesh is an asset for India; a weak, China-dependent Bangladesh is not.
(The writer is a veteran BBC correspondent and author)