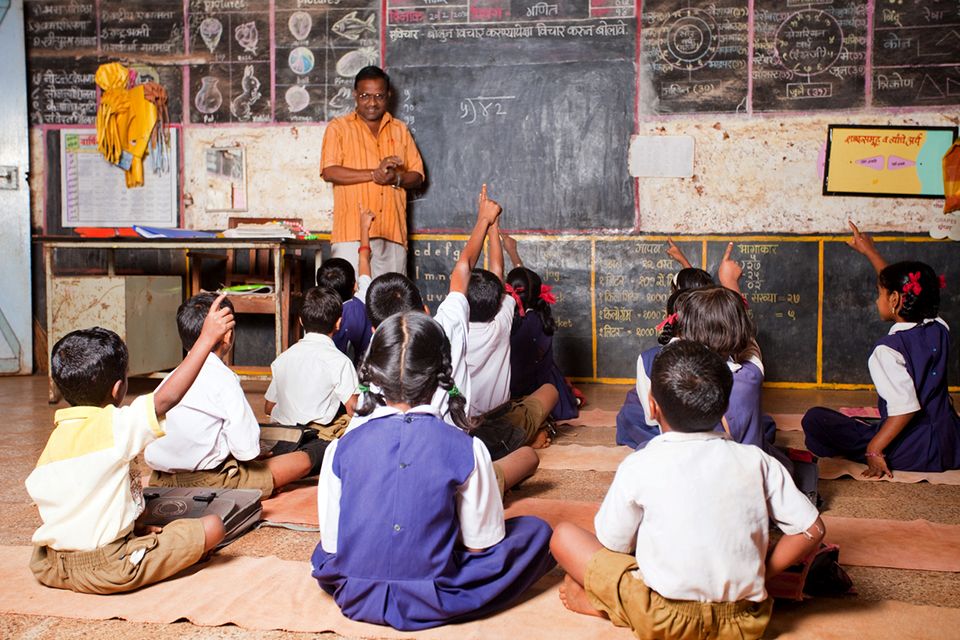 Draft education policy: Ambitious on targets but silent on funding
The draft New Education Policy (NEP-19) thrown open for discussion by the government seeks to build a "robust education system" in the coming years. The policy seeks to do this with the extensive use of technology in classrooms, early enrolments of children and free education to everyone under the age of 18 to improve dissemination of education. It, however, gives less details about funds to execute these plans.
Many of these targets require the government to expand infrastructure, hire more teachers and professionals and improve management. For which, the government would need additional capital.
The draft policy pitches for early childhood care and enrolment to bridge deficiencies in the existing childhood learning programmes. It is proposed to get a child enrolled at the age of three and attend three years of pre-primary school (LKG, UKG and KG).
Traditionally, children under age 4, go to anganwadis for early schooling and then join government schools for free education till Class 12.
The new policy is likely to impact around 25.3 crore students in India studying both in government and private schools. Of these 45 per cent belong to Other Backward Castes; 19.1 per cent Scheduled Castes and 9.7 per cent Scheduled Tribes.
Funds inflow
Over 65 percent of all school-going children in 20 states — about 11.3 crore — are enrolled in government schools, according to U-DISE (2014-15) data. While the policy will bring more students under its ambit and benefit students from low-income families, the draft does not explain how additional expenses would be funded.
The early childhood care and education scheme increases the number of years of schooling to 15 years from 12 years (excluding one-year pre-school in anganwadi). At present on an average the government spends ₹3884 on educating a student for a year. For 12 years, till the student reaches 12th standard, the spending would be ₹46,608. If the new policy is implemented, the government may have to spend an additional ₹11,652 on educating one child over 15 years or ₹58,260, a 25 percent jump in the cost.
For 11.3 crore school students, the government would have to spend an additional ₹8,777 crore annually or ₹1.3 lakh crore for 15 years.
In the interim budget of 2019, the then finance minister Piyush Goyal had allocated ₹93,847.64 crore for education, of which ₹56,386 crore were for school education.
Shortage of teachers
Besides the government would need additional capital to build infrastructure and hire more teachers. The draft policy recommends bringing together multiple public schools to form a school complex.  It is recommended that a complex should comprise at least one secondary school (classes nine to twelve). The neighbourhood public schools should be able to offer education from pre-primary till class eight.
There is already an acute shortage of professionally qualified school teachers. On an average, the Pupil Teacher Ratio (PTR) stood at 21 in 2016, according to a HRD ministry report. The report also stated that the PTR had remained unchanged for the past five years, indicating a shortage of teachers as India's student population is growing steadily.
The government plans to replace the existing B Ed programme by a four-year integrated B Ed programme that combines high-quality content, pedagogy, and practical training. This means the government will have to pump in more money to train them.
The funds for training teachers have been declining over the years. Funds allocated for training teachers declined by 87 percent in the past six years to ₹150 crore in 2019-20 from ₹1,158 crore in 2014-15.
Right to Education Act
The draft policy also recommends extending the ambit of the Right to Education (RTE) Act to include early childhood education and secondary school education. This would extend the coverage of the Act to all children between the ages of three to 18 years. Currently, the RTE Act provides for free and compulsory education to all children from the age of six to 14 years.
The Section 12(1) (c) of the Act directs schools to reserve 25 percent of all entry-level seats in private, unaided, non-minority and special category schools for children from economically weaker sections and disadvantaged groups.
Before extending the Act, the government may have to focus on the proper implementation of the existing Act as nearly 80 percent of private schools in Delhi do not reserve 25 percent seats for students from economically weaker sections (EWS), according to Bright Spots: Status of Social Inclusion through RTE report by Indus Action.
The report points at a slowdown in the number of seats available under RTE in unaided private schools. In 2016-17, the annual number of seats in India reserved for EWS students in unaided private schools stood at 21.8 lakh, down from 22.7 lakh in 2015-16.
One of the reasons for this is the lack of reimbursement from the government to the schools. As per Annual Work Plan and Budget 2018-19, eight states out of 13 had disbursed only 40 percent of the amount proposed for reimbursement to private schools in the states. The remaining 60 percent or ₹786 crore was not approved for reimbursement.
The government has also listed plans to transform classroom teaching by including technology-based interventions. One such proposal is to set up virtual laboratories that would provide remote access to laboratories in various disciplines. Setting up these technologies would require additional funds from the government.
Low education spend
India's spending on education has always been low. In 2017-18, public expenditure on education in India was 2.7 percent of GDP.
While India's allocation to the education sector by the centre and states remains close to 3 percent of GDP, it is well below the world average of 4.7 percent of GDP, according to a 2018 report by Niti Aayog.
The draft policy reaffirms the commitment of spending 6 percent of GDP as public investment in education. However, this is not the first time the government has set such a target. In the first National Education Policy (NEP) 1968, the committee had recommended public expenditure in education must be 6 percent of GDP, which was reiterated by the second NEP in 1986. However, India's spend on education has barely touched 5 percent.
Overall, the draft aims at not only focusing on improving the quality of education but also improving the pupil-teacher ratio, better implementation of RTE and building better infrastructure which is the need of the hour. But absence of any road-map on how to raise funds to meet the ambitious targets leaves a black hole.