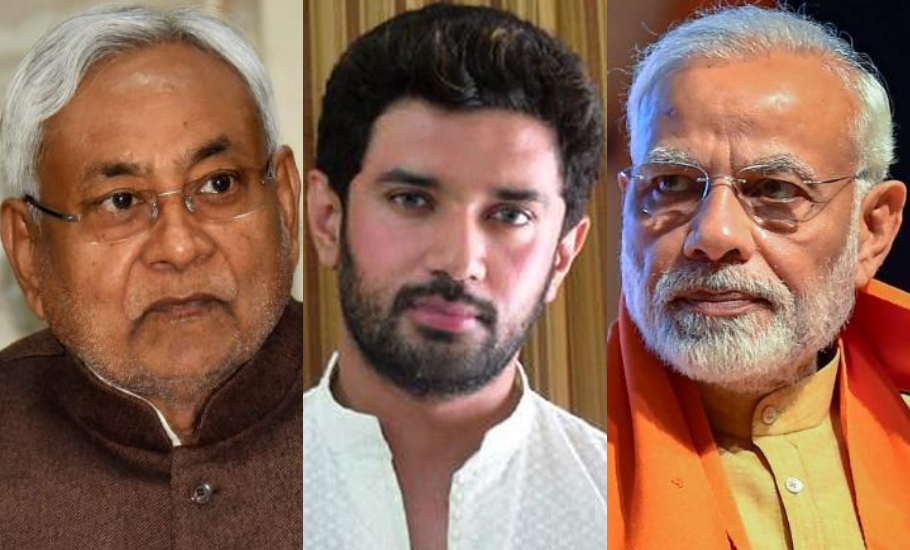 It's not just Chirag, many other factors may harm Nitish's poll prospects
The recent moves made by the Lok Janshakti Party leader Chirag Paswan to ruin the chances of Nitish Kumar's return to power for the fourth time in Bihar are not alone to mar the chief minister's party Janata Dal-United's relationship with the Bharatiya Janata Party.
The recent moves made by the Lok Janshakti Party leader Chirag Paswan to ruin the chances of Nitish Kumar's return to power for the fourth time in Bihar are not alone to mar the chief minister's party Janata Dal-United's relationship with the Bharatiya Janata Party. Nor this is a one-sided affair as it's widely believed to be where the BJP is blamed for trying via Chirag to cut JD(U) to size in the ongoing polls for a new State Assembly.
Instead, the seeds of distrust between the JD(U) and BJP were being sown for past some time, or at least since months before, Chirag threw a spanner in the polls for the NDA to grapple with. This has been so courtesy both the parties, though the JD(U) and BJP have for long been allies and partners under the National Democratic Alliance (NDA).
For the genesis of this, one has to look at the exit of poll strategist Prashant Kishor from the JD(U) at the beginning of this year. This is more so since it was not without bitterness becoming visible at the point of time Prashant parted with Nitish. But before going into this any further at this stage let's first look at another significant turn that events took in Bihar a little over two months after Prashant left JD(U) – or in March 2020 – when the main newspapers of Bihar splashed a full-page ad to trumpet the entry of a rather callow player in the State's politics.
Related news: Chirag vs Tejashwi: Two dynasts challenging the Bihar Chanakya
The daily papers' ads flaunted 33-year-old Pushpam Priya Choudhary and her fervent wish to become chief minister and redeem the once awakened land of Bihar to its rightful glory. Many thought this to be a tall order for the London School of Economics-trained and yet a greenhorn of sorts with no prior brush with politics except for being born in a rather few politicos' family.
Her father Vinod Choudhary and his brother Vinay have not only been part of JD (U) but close to Nitish. The first of the two is also a former JD(U) MLC. The BJP couldn't have missed this. The Choudharys come from quite a bit privileged and land-owning caste in Bihar that generally votes for the party whether with or without Nitish's backing as an ally and NDA partner.
Today as against LJP's 137 candidates in the fray, Pushpam Priya's Plurals Party (PP) has fielded 146 candidates. It's so after 28 candidates of PP had to face rejection by the election office while or after filing their nomination papers. Priya has been crying foul after this and wrote to President Ram Nath Kovind to complain about threats and intimidation faced by her party's candidates because of police and officials as also non-State actors acting at the behest of rival parties. She demanded imposition of President's rule in Bihar to ensure free and fair polls.
Related news: BJP-NDA 'far ahead' in Bihar; no change in RJD character, says Nadda
Priya is herself pitted against a three-time and also sitting BJP MLA, Nitin Nabin, in Bankipur. Congress candidate Luv Sinha is her other opponent. He is son of yesteryears cine-star Shatrughan Sinha. Bankipur is part of Patna Sahib parliamentary constituency which had earlier elected the senior Sinha. She is also contesting from another Vidhan Sabha seat in Madhubani district so that she can be doubly sure to enter the Assembly.
Significantly, Priya is facing the BJP and not JD(U) candidate in Bankipur. This looks parallel to the course taken by Chirag's party though two parties' choices are opposite to each other in respect of their opponents. Most LJP candidates have preferred to contest against the JD(U) rivals alone while avoiding confrontation with BJP candidates. Some of the old BJP hats like Rameshwar Chaurasia, Usha Vidyarthi and Rajendra Singh are contesting as LJP candidates. They are generally pitted against Rashtriya Janata Dal (RJD), or the mega-alliance led by its main bet Tejashwi Yadav, besides JD(U) candidates after they couldn't get a BJP ticket.
Though PP may not be as wholesomely opposing BJP as LJP is devoted to targetting JD(U), the thrust of Priya's campaign is largely against what she calls to be BJP's and other parties sectarianism and selective approach as against her party's pluralism that cuts across caste, creed and communities. So if LJP is trying to cut into the votes of JD(U) to benefit BJP, Priya's party or the PP may end up doing just its opposite.
Related news: Bihar will elect NDA again, people have rejected 'double yuvraj': Modi, says Modi
So at a broader level the role of LJP and PP appears to be boiling down to counteract and, thus, counterbalance each other. And even if it's not entirely so, it appears that the two parties' leaders have been targetting Nitish and the status-quo he signifies with some or their own degree of vehemence.
It's not known how far the two leaders are going to achieve their end which, according to them, is to upstage Nitish to bring a change in Bihar. Initially, both Priya and Chirag's moves were credited to Kishor since he had fallen out with Nitish. Though this has been denied by Kishor, Nitish's trouble started with the strategist-cum-pollster's opposition to the Citizenship Amendment Act. Kishor was removed from the post of vice-president of JD(U) amid his criticism of the controversial piece of law which was passed by parliament last year only to face a challenge before the Supreme Court.
Soon after removing Kishor from the party, Nitish had said that the strategist was initiated in Bihar politics on the recommendation of Union Home Minister Amit Shah. Kishor did not agree with this. Thus, what appears to be the case is that Kishor was found to be somewhat inconvenient for the Central Government and its higher ups saw to his unceremonious exit from Bihar. This looks to be the case irrespective of the fact whether he was recommended by them to Nitish or not.
Kishor's fall from grace in Nitish's eyes may not have exactly brought instigation for new players to jump into the State politics with or without the intent to redraw, or spoil, the equations between the JD(U) and BJP in Bihar. Yet, the kind of trouble Nitish appears to have landed into through the run up to the polls points to the need for a strategist like Kishor to bail out the beleaguered chief minister from the trap created by the new entrants, besides other factors, amid the polls.
This is more so since the sheer difference in age of the main protagonists of the current electoral battle – Nitish at 69 and Tejashwi Yadav about 31 – is such that soon it can well change the complexion of politics not just in Bihar but also at a much wider scale.
Not too long ago a generational change of sorts was said to have catapulted Narendra Modi to the post of prime minister. Kishor was credited to have advised Modi through the fateful general elections that took place in 2014 and the rest is history.
Now Nitish faces charges of sloth in tackling floods during the last monsoon that followed waves of migrant returnees hitting back their homes in Bihar to escape lockdown in metropolises. One reason behind this could well be the fact that until a few months before the outbreak of the current pandemic the chief minister's outreach programmes were mainly looked after by none other than Kishor. Yet, he was not there when the crisis broke out and the command structure put into place after him did not work.
Moreover, in the past it was only Nitish who could not swallow the change of leadership in the BJP from LK Advani to Modi. And, thus, the JD (U) left the NDA in 2013. With time the equations changed and the JD(U) returned to the NDA fold in July 2017. Nitish accepted Modi as the leader of the NDA's dominant party running the Centre. In turn JD(U) expected to be in an equally commanding position in Bihar.
Yet, now the question is that is it going to be so after November 10 when the results of the polls are out?
(The writer is an independent journalist based in Delhi. He can be reached via Twitter @abidshahjourno)