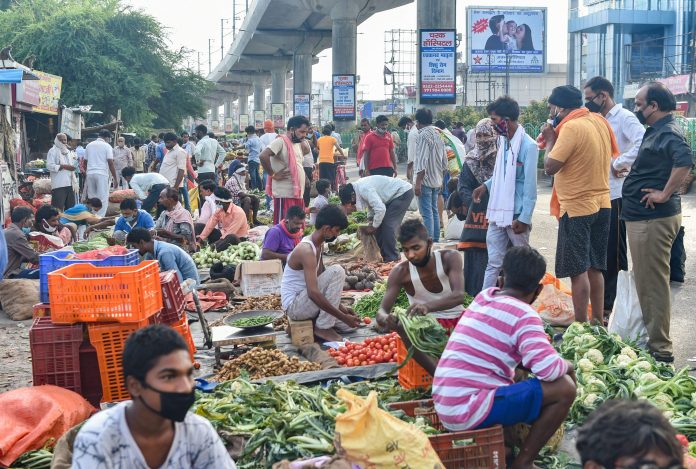 COVID-19 has given the World Trade Organization (WTO) an unexpected opportunity to wriggle itself out of irrelevance caused by trade wars and trade pacts. However, the greed of healthcare products manufacturers is preventing the Geneva-based international trade regulatory body from ensuring affordable treatment for the pandemic-affected masses of the globe.
Incidentally, WTO completes 25 years of its existence in 2020.
While waves of Coronavirus infection are affecting every part of the continent, the WTO is yet to move decisively on waiver of intellectual property rights (IPRs) to make COVID-19 prevention, testing, and treatment affordable to people, especially those living in developing and least-developed nations.
Also read: COVID-19 spurt in states: Centre rushes teams to UP, Punjab, Himachal
The General Council of WTO is scheduled to meet on December 16 and 17 and the issue of TRIPS (Trade Related Aspects of Intellectual Property Rights) is right on top of its agenda in view of the COVID-19 pandemic raging unbridled in every direction.
While all focus will be on Sputnik, Pfizer, Moderna, Oxford-AstraZeneca vaccines, IPRs have an impact on a number of aspects of Covidcare. For example, even a simple (although crucial for preventing the spread of Coronavirus) item like N95 mask is patented by American giant 3M. Similar is the case with reagents used in COVID-19 testing kits, medicines like Remdesivir is patented by US-based Gilead Sciences Company, and equipment like ventilators. Therefore, it is important to keep TRIPS aside for the time being to fight the COVID-19 more aggressively.
Also read: COVID to peak in Nov, may bring along shortage of ICU beds: Study
The fight for affordable Covidcare has led to comparisons about the TRIPS exemption granted two decades ago to fight epidemics like HIV/AIDS. "Under WTO law, patent rules can be waived for providing public health emergency treatments at affordable prices. This was done for AIDS and must be done now for COVID-19," says former Union Minister Jairam Ramesh. "India should lead the campaign at WTO, G20 and other forums. It is vital for both public health and economic revival," said a Twitter post by Ramesh, who handled various portfolios including commerce in the erstwhile Manmohan Singh government.
India on the forefront
Jairam Ramesh's comments have highlighted the significance of the Doha Declaration of WTO in 2001 that led to the TRIPS breakthrough after several countries including India put up a tough fight.  "The (TRIPS) Agreement can and should be interpreted and implemented in a manner supportive of WTO members' right to protect public health and, in particular, to promote access to medicines for all," the Doha Declaration said, paving the way for compulsory licensing to ensure affordability of life-saving medicines. TRIPS has been controversial due to apprehensions over adverse impact on healthcare as patents, trademarks and other IPR restrictions can push up the cost of medicines sharply. At the same time, lack of protection to IPRs could de-incentivise research and innovation, with companies showing lukewarm interest in producing drugs for new diseases.
India has taken the lead in proposing at the WTO that TRIPS obligations should be waived without delay to ensure smooth supply of Covidcare products, services and technology to the affected masses. The Coronavirus pandemic is a public health emergency that calls for exceptional steps, Indian diplomats have emphasised and rallied support from several countries including South Africa and Kenya.
At the last count, nearly 100 of the 164 members of WTO are supporting the move and supporters of the India-South Africa proposal include China and Pakistan. The WTO Secretariat, on its part, has come out with a report on "TRIPS Agreement and Covid-19" and Ngozi Okonjo-Iweala, the Nigerian economist who is in running for WTO Director General, is also supporting the move. The World Health Organisation, UNAIDS,  UNITAID and several international organisations like Medicines Sans Frontiers (MSF) have also supported the move and this has been emphasised in the proposal submitted to WTO.
US, Europe side with pharma profits
While the support for curtailing TRIPS to boost the war against Covid-19 enjoys strong majority within WTO, a handful of rich members including the influential United States and European Union are blocking the move. It is not clear if Russia, having developed its own Sputnik vaccine, will side with those seeking TRIPS waiver. China, one of the largest suppliers of Covidcare items, will stand firm in its support for the India-South Africa proposal. Developed countries have been successful in blocking the proposal till now, but pressure is expected to intensify at the WTO General Council meeting. Decisions are taken at the WTO by consensus and that leaves scope for the majority getting blocked by a handful of opponents.
The outcome of this tussle will be crucial at this juncture as vaccines for Covid-19 are expected to be rolled out in 2021. The US and many European countries have already made sizable bookings in advance from major pharma companies. This means availability for developing countries and least developed countries will be at low priority. High prices will make the situation worse and this amounts to neglect of the poor. This is the reason why the WTO has to take a quick decision in favour of healthcare for the poor, rather than simply watching pharma majors make a killing out of a pandemic.
WTO's predicament
The significance of WTO has diminished with the US-China trade war during the Donald Trump era. The two economic giants have taken the matter to a bilateral level, rather than working through the rules-based multilateral trading system that the Geneva-headquartered organisation is meant to preserve. After the Ladakh border tussle, India is also working at an individual level to counter China. On the other hand, the recent Regional Comprehensive Economic Partnership (RCEP) has sliced away a huge block of WTO's domain. The free trade agreement (FTA) between China, Japan, Australia, Singapore, South Korea, New Zealand, Malaysia, Cambodia,  Indonesia, Laos, Myanmar, the Philippines, Thailand, Vietnam and Brunei is the largest trading bloc formed so far — eroding the relevance of WTO. With no new trade agreements in its kitty during recent years, the WTO is struggling and regional trade pacts are only undermining its importance. At such a juncture, the future of WTO's relevance may depend upon the initiative of key members to deliver a landmark decision on COVID care.