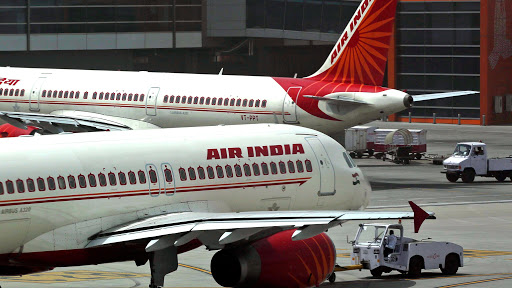 Just when the Narendra Modi Government had come out all guns blazing with a special purpose vehicle (SPV) and relaxation of investment norms to make strategic divestment of Air India successful at least this time, the COVID-19 tsunami is threatening to derail it once again.
The Department of Investment and Public Asset Management (DIPAM) has already extended the deadline for submitting Expression of Interest (EoI) to April 30 due to coronavirus fear by prospective bidders.
The epidemic dogging most of the world is pushing the aviation industry rapidly into crisis. According to preliminary estimates of the International Air Transport Association (IATA), the losses in terms of revenue for the aviation industry could be as high as $113 billion.
Advertisement
Flybe, a small carrier based in the UK has become the first airline victim of COVID-19 and many more small players including Sri Lankan Airlines are said to be facing trouble.
Hainan Airlines of China, the epicentre of the disease is running on State support and a number of other players including Norweigian Airlines are also facing the heat.
Red all over
Flight cancellations are now in hundreds of thousands and there is no clarity when normalcy would be restored as several nations including the US have restricted foreign travellers to a bare minimum. By all counts, the mood in the aviation industry is pessimism combined with uncertainty. Under such circumstances, what kind of a buyer can one find for the Air India Maharaja?
Related news: Air India disinvestment process going on extremely well: Aviation Minister
It is difficult to think of an airline that will dare to go for acquisition at a time when most of the industry is apprehending losses. Big global players like American Airlines and Lufthansa have seen substantial erosion in their market cap which makes it difficult for them to leverage funds.
Singapore Airlines is facing the heat due to its geographical proximity to China and the COVID-19 scare has not spared the Gulf region that houses big airline players like Emirates.
Wiser to buy time
Since coronavirus impact is hurting the global economy with deep gashes, interest in buying an asset like Air India has become more subdued now. Though the disinvestment is long overdue, it is felt that not rushing with the bidding now will be a wise move.
"Considering the current circumstances of the global aviation industry and revenue losses, it will be prudent for the Government to wait till market sentiment improves and then move further ahead," said Ankur Bhatia of Bird Group who is part of CII's National Committee on Civil Aviation. He also feels that the impact is sharp now, but things will improve quickly once spread is contained.
Single-Bidder Situation
Though Civil Aviation Minister Hardeep Puri been exuding confidence that Air India disinvestment will go through this time, industry veterans feel that the already difficult situation has become more difficult now.
Along with other airlines across the globe, the national carrier has also curtailed flights and is facing the prospect of increased losses. There is no way airlines or other investors, are going to engage in a mad scramble to bag Air India.
Related news: Cabinet approves 100% FDI by NRIs to push Air India privatisation
So far only open indication of interest in Air India has come from Bhaskar Bhat, Chairman of Tata-SIA Airlines Ltd, popularly known by its Vistara brand full-service carrier.
While the Tata Group has sentimental reasons to bid for Air India that was started by the legendary JRD Tata, will Singapore Airlines – the joint venture partner – show interest given the current circumstances?
While indicating that Air India was an interesting proposition, Bhaskar Bhat had said there was a need for detailed evaluation. That explains why the date for EoI has been extended now. However, there is no indication of more bidders. A single-bidder situation may not be the best option for the Government, considering the opposition from many quarters including employees of the national carrier.
Challenges aplenty
Any investor picking up Air India has to bring in adequate working capital, service debt of around ₹25,000 crore, and also bring in fresh investment to induct new technology and aircraft to turn the airline around.
That requires deep pockets and a lot of optimism – both difficult to find in the aftermath of COVID-19 impact that has crippled the travel and tourism industry.
"Even before the corona scare, chances of finding an investor for Air India were bleak. Now in the current scenario, I don't think there will be any bidder for Air India," said Harsh Vardhan of Starair Consulting, a Delhi-based airline consultancy organisation.
"Due to the corona impact, nearly 50% world airlines are facing closure. The financial impact of the crisis will be felt more and more in the coming months with no forward sales booking revenue and cancellation refunds resulting into negative cash flow," he added.
Jinxed?
In 2001, the proposed sale of Air India to a Tata-Singapore Airlines consortium was in the final stages when 9-11 came as a blot from the blue.
Related news: Air India may have at least one bidder this time: the Tatas
Sant Kaul, a retired IAS officer who was part of the Civil Aviation Ministry team at that point, recalls how Singapore Airlines immediately turned reluctant. The impact of the terror attack on the Twin Towers was so huge on the aviation industry that Singapore Airlines decided not to go ahead with the Air India acquisition, said Kaul.
The Tata Group continued to be interested and efforts were made to find another partner in place of Singapore Airlines, but none of the big airlines were willing to go for an acquisition at that point and the deal fell through. For Kaul, it is a sense of "deja vu" to see the COVID-19 outbreak pull the plug on Air India disinvestment this time.
Either Air India or the Government is unlucky to find headwinds this time too, especially after the divestment deal was made palatable by hiving off a substantial part of the national carrier through a SPV and offering to sell 100% stake on liberalised terms that include permission for NRIs to pick up 100% stake through the automatic route.