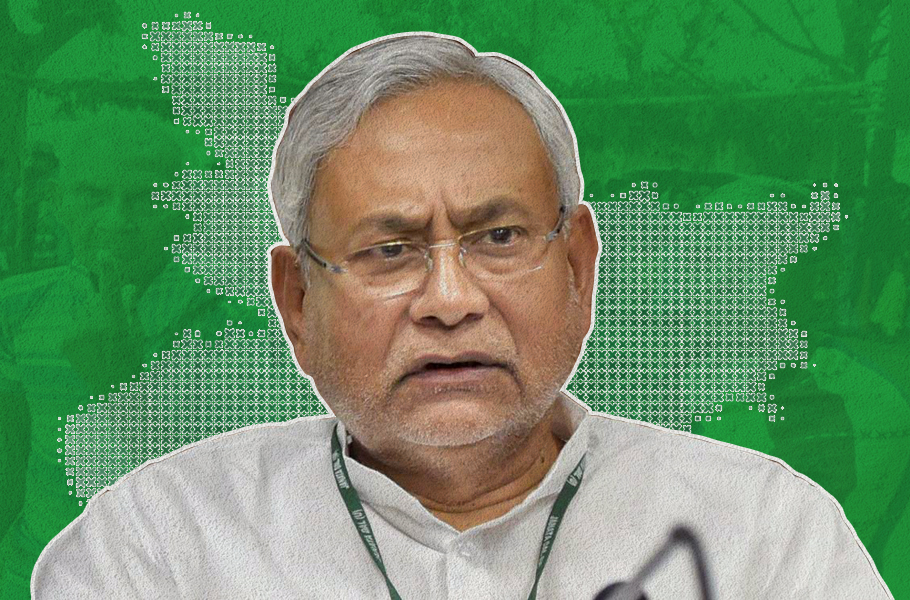 Love-hate relationship between JD(U) and BJP at its zenith
Janata Dal (U) parliamentary board chairman Upendra Kushwaha's recent statement that "NDA is Nitish and Nitish is NDA in Bihar" is seen as the party's veiled warning to BJP to continue as a junior partner despite being the largest party in the alliance.
Of late, BJP has been asserting itself in Bihar, much to the annoyance of the saffron party. BJP has 77 MLAs against JD (U)'s 45.
Although Bihar chief minister and JD (U) leader Nitish Kumar's leadership was never in question, attacks on him even by junior BJP leaders only created a wrong perception in the public.
It is an undeniable fact that BJP needs Nitish badly if NDA has to repeat or even come closer to its 2019 Lok Sabha election performance, when it had bagged 39 out of 40 seats. The BJP had also suffered a humiliating defeat in the 2015 Bihar assembly election when it contested without entering into an alliance with the JD (U).
Also Read: 28Why the Opposition needs its own Vajpayee to win back voter's confidence
JD (U)'s strong support base among extremely backward castes (EBCs) and also its large acceptability among non-Yadav OBCs and Dalits make it so special. The BJP is trying to penetrate into the party's vote bank but its success has so far been limited, forcing it to depend on Nitish Kumar to remain in power in Bihar.
Such a dilemma also exists for JD (U) as it cannot hope to win the elections without the support of BJP's vote bank. Nitish's party won only two seats in 2014 Lok Sabha elections when it went to polls in alliance with CPI after snapping ties with the saffron party.
So both BJP and JD (U) need each other badly but JD (U) has a unique advantage as Nitish may return to the grand alliance (with Congress and the RJD) to pursue his political ambition.
"BJP considers that it can win the battle of perception by attacking Nitish," noted a political analyst.
As BJP became more assertive, Nitish smartly came close to the main opposition party, RJD, which is apparent from the fact that now party leader Tejashwi Yadav has become less harsh in his criticism of the CM, the analyst added.
Nitish's newly found affection for Tejashwi  and the verbal duel between JD (U) and BJP leaders have unnerved BJP`s top leadership. So much so that Union minister Dharmendra Pradhan was sent to Patna as an emissary to soothe the frayed tempers. Pradhan met Nitish twice in two months.
"All is well between the two parties. Nitish will complete his current term as chief minister," Pradhan remarked while responding to media questions. The Union Minister`s remark also betrays BJP's apprehension about Nitish's next move.
Is there shadow boxing between BJP and JD (U)?
The two parties are not on the same page on several issues, most recently on the Agnipath scheme, rolled out by the Narendra Modi government for short-term recruitment in the Armed forces.
Despite the differences, the two political outfits are still together. They are engaged in shadow boxing and will continue to remain in alliance for the sake of power, commented a political analyst on the condition of anonymity.
Political analyst Pravin Bagi said, "BJP is playing dual politics with Nitish. It is attacking Nitish through state BJP leaders and then the party`s central leadership soothes his hurt ego. The BJP by doing so is only denting the image of Nitish in JD (U)'s rank and file and also creating wrong public perception about him."
Bagi said BJP is apparently trying either to install its own government or replace Nitish with some other leader from JD (U), most probably RCP Singh, who lost his post of Union minister after Nitish refused his re-nomination to the Rajya Sabha. Only time will tell if RCP will be able to do anything significant, remarked another political observer.
RJD and JD (U) electoral alliance again?
A bitter verbal duel had broken out between Bihar BJP president Sanjay Jaiswal and JD (U) president and party MP Rajiv Ranjan Singh a.k.a. Lalan Singh when the former targeted chief minister Nitish Kumar following attacks on houses of Jaiswal and deputy chief minister Renu Devi and also torching of some BJP offices during anti-Agnipath protests in the state.
Political analyst Pushya Mitra said that both BJP and JD (U) are engaged in a war of supremacy and so they keep attacking each other.
On four AIMIM MLAs joining RJD, Mitra said, "Why did the MLAs join the RJD? They could have joined JD (U) too but the possibility of Nitish playing his role from behind the scenes in their joining cannot be ruled out completely." The RJD has reclaimed its position as the biggest party after the AIMIM MLAs joined the party and the state governor will be bound to call RJD first for formation of a new government if any such situation arises in future, the analyst added.
As the trust deficit between BJP and JD (U) grows, Nitish is trying hard to strengthen his position in the NDA. His firm stand on the caste-based census has also strengthened his position in the alliance, Mitra added.
Nitish government has already declared that the caste census work would be completed by February next year. After the caste census report is put in the public domain, Mandal politics is likely to revive in Bihar ahead of the 2024 Lok Sabha election, Mitra stated.
He said aggressive Mandal politics, expected after the caste census report becomes public, will ultimately overshadow BJP's Hindutva politics. It also shows how Nitish is also trying to take revenge for his party's dismal performance in the last Assembly elections after LJP leader Chirag Paswan, allegedly propped up by BJP, fielded his party's candidates against JD (U)`s nominees.
Almost Read: How BJP is becoming its own dangerous enemy
Political analyst Bagi said that the face-off between Nitish and Bihar assembly speaker and BJP leader Vijay Kumar Sinha inside the house was unprecedented. It only demonstrates how the war of supremacy between the two outfits has spilled over into even state assembly, he added.
Also read: Seven months after kisan protest ended, farmers are far from happy
JD (U) parliamentary board chairman Upendra Kushwaha`s recent remark that ideologies of both parties are same on several issues also opens a window of opportunity for re-alliance between RJD and JD (U), he added.
Political analyst Sami Ahmad said, "Not everything is fine between BJP and JD (U)." Senior leaders like Giriraj Singh and Sanjay Jaiswal from BJP and Lalan Singh and Upendra Kuwshwaha keep attacking each other, triggering speculation over the political realignment in the state, he added. It also has its impact on the government, he noted.
Ahmad said both BJP and JD (U) are ideologically different as they also contested elections separately in Uttar Pradesh and Manipur. In such a situation, their relationship has always been a subject of intense speculation.
RJD trying to consolidate Muslim voters in Seemanchal region
Enthused by the induction of four AIMIM MLAs from Bihar`s Seemanchal region into his party, RJD leader Tejashwi Yadav has intensified his attack on the BJP, aimed at consolidating Muslim voters of the region who helped Hyderabad MP Asaduddin Owaisi's party win five seats in the 2020 state assembly election.
AIMIM's victory on five seats in Seemanchal region of the state came as a surprise for many as it was also RJD`s worst performance in the region. In the 2015 assembly election, RJD had won four seats but the AIMIM wrested Baisi (Purnia) and Jokihat (Araria) seats from the RJD in the last election. But the RJD managed to recoup these losses by inducting four out of five AIMIM MLAs into the party.
"When we call RJD 'A to Z' party, it also includes MY," Tejashwi remarked while referring to the party`s core vote bank comprising Muslims and Yadavs.
"If the BJP has the courage, it should contest the election on its own," he added. The RJD leader challenged the saffron party, apparently seen as his ploy to ensure consolidation of Muslim voters in the Seemanchal region.
Muslim population in Seemanchal is as high as 47 per cent against Bihar's state-wide average of 17 per cent.
Also read: Having saturated 18 states, BJP now looks at South India – Telangana first
Tejashwi has also planned to tour the region soon. He also claimed that the RJD has become strong in Seemanchal following the induction of AIMIM MLAs.
AIMIM MLAs like Mohammed Shahnawaz Alam (son of former union minister and RJD leader Mohammed Shahnawaz Alam) had contested the elections on AIMIM ticket in last assembly polls when they were refused tickets by the RJD. He said that they had made up their mind to contest elections as Independents before they were offered tickets by AIMIM at the last moment.
Ahmad said Muslims of Seemanchal region were unlike those of other regions in the state. They are more concerned about education and jobs than anything else.
Seemanchal is located in the northeastern direction of Bihar and is close to Bangladesh, Nepal and West Bengal borders. It comprises Purnea, Katihar, Araria and Supaul, Kishanganj, Khagaria and Saharsa districts.